The city of Vancouver occupies a unique position on the west coast of Canada between the Pacific Ocean and the rugged mountains of the Coast Mountains. It is a city of absolute diversity. Over 2.4 million people live here and around half of them are British Columbians. The city has around half a million inhabitants from a wide variety of countries. Expansive parks and skyscrapers are very close together here. You'll find First Nations culture, music and arts festivals and galleries. Beautifully restored historic districts and extensive shopping streets invite tourists to stroll. A mixture of cultural influences and lots of nature – this city is unique.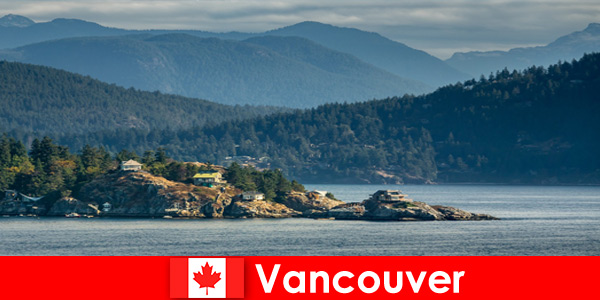 Viewpoints and parks in the metropolis
The entrance to Stanley Park offers a classic view of downtown Vancouver with the marina. It is definitely worth taking the Sea Bus from the harbor to Stanley Park. Tourists get a ni-ce view of the Pacific and the beautiful city when they drive to the beaches via Cornwall Ave and the Burrad Bridge. A fantastic experience is the sunset. There are almost too many parks here to see them all. But one of them has to be seen by visitors – Stanley Park. Not only because of the aquarium, but also to have enjoyed the view of downtown Vancouver from Prospect Point. In addition to the animals in the aquarium, countless geese, raccoons and squirrels can also be observed, which are not afraid of people. Portrait painters and artists can also be found when the weather is ni-ce. Beautiful beaches invite you to swim in the Pacific. The Queen Elizabeth Park on Cambie Street is also worth mentioning. Here you will find the Bloedel Conservatory. This is a greenhouse with more than five hundred different species of tropical flowers and plants. Simply a pure nature experience.
Shop like crazy
Robson Street is also the main shopping street here. This runs right through the center of the city. Robson Street runs from the Lost Lagoon, located at Stanley Park, to the B.C. Place Stadium. Most restaurants and shops are in the section between Jervis Street and Burrard. As far as the eye can see – souvenir shops, cafes, branches of leading fashion chains, designer shops and restaurants.
Into the untouched nature
A true nature experience awaits tourists at Grouse Mountain north of the city. This is only about fifteen to twenty minutes from downtown. A stop at the Grouse Mountain retreat is a must. Wolves and grizzlies romp here. These animals are orphans who are raised in the station. Summer offers lumberjack shows, winter ice skating. Numerous hiking trails of different lengths offer a unique nature experience. Of course, the physical well-being was also thought of. In addition to numerous cafés and bistros, the award-winning restaurant "The Observatory" also awaits its visitors. Travelers who have been here once find it very difficult to say goodbye. The unique city in Canada – unique metropolis with an absolute wow effect.