Young active tourists will find everything in Toronto to do a lot of sport and have a lot of fun! You make friends with the locals quickly, because they are very open to tourists. Regardless of whether you want to see the sights of Canada's fourth largest city as a visitor or just sit in a café and take in the city's flair. Locals are happy to answer questions from visitors and give active tourists tips on sports and fun as well as recommendations on places of interest in the city. If you follow these tips, you will have a lot to experience in this great city.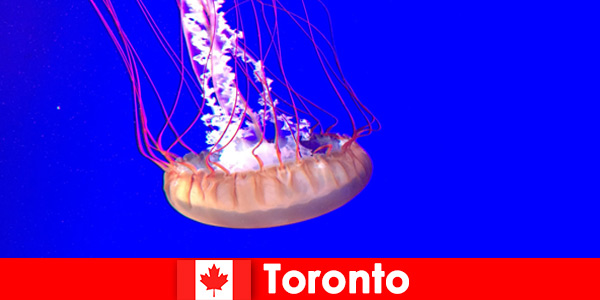 A multicultural city with great flair
Toronto residents come from all over the world and have proudly set up their own communities in Canada. Cultural differences are clearly demonstrated in the city with food, music, events and parades, to which everyone who is interested is welcome.
Sports events in the fourth largest city in Canada
Enthusiastic sports fans will find enough opportunities here to cheer one of the many sports teams as a spectator: There are not only the Raptors (basketball), Maple Leafs (hockey), Blue Jays (basketball), Argonauts (football), but also the Toronto Wolfpack ( Rugby) and the Toronto Football Club (soccer). They all have many fans around the world. In the wonderful city active tourists will find halls and stadiums in which sporting competitions take place. Locals who are enthusiastic about sports come together and celebrate even when there are no sports events.
A lot of fun awaits tourists all year round!
Summer is the main tourist season in the city. However, there are many more reasons to visit this city all year round. The colorful fall foliage in parks is just as wonderful as the events on ice rinks in the city or in the famous Ripley's Aquarium. Bad weather can never spoil an entertaining day in the city. You can be active all year round.
Enjoy your free time like a Torontonian
Terrace season is always the order of the day in this city. There are winter-proof terraces in the Sky Yard of the Drake Hotel and the rooftop of the Broadview Hotel. Numerous other winter-proof terraces wait all year round for guests who like to sit in the open air. Ice skating is also possible in summer! An ice rink on Ontario Place also offers active tourists the opportunity to let off steam on runners. The Bentway in winter has a unique ice rink. The Gardiner Expressway runs above it. In the summer, visitors can show off their skills on a skateboard. You can listen to live music and enjoy what's on offer in a beer garden. The famous ice rink on Nathan Phillips Square is adorned with a water basin with a fountain from spring to autumn before it becomes an ice rink.
You can also have fun in Toronto's nightlife
Richmond Street is in the Entertainment District, which is popular with both locals and tourists. Various DJs offer a musical selection that encourages visitors to these clubs to dance. If you are looking for a certain genre or want to attend band performances, you will always find something here that suits your musical taste.
Latin American music and jazz are not neglected!
The Lula Lounge is the place for fans of Latin American music and the Reservoir Lounge offers jazz fans the highest level of enjoyment. For an entertaining evening program, the legendary El Convento Rico is recommended with excellent drag queen shows. Every visitor to Toronto gets his money's worth!