Strangers enjoy the world of street food in Da Nang Vietnam. In addition to the Vietnamese specialties in the luxuriously furnished restaurants, street food is an essential part of the city's culinary menu. The world of Da Nang's street kitchen is shaped by several delicious dishes that strangers fall in love with at the first tasting meal.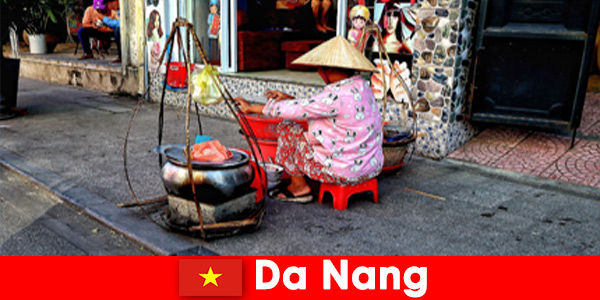 Mi Quang – A popular breakfast
The meal consists of quang style noodles with pork, chicken, eggs, prawns and roasted peanuts. It is served with rice crackers, herbs and some broth.
Jackfruit Salad – A popular Da Nang street food
Jackfruit salad made from cooked jackfruit, cooked prawns, pork skin, herbs and spices (onion, fish sauce, garlic, chilli and lemongrass) is served with rice paper. Jackfruit salad is usually sold in the evening. The dish can be eaten as a starter. It's tasty and very cheap.
Bun Mam – Delicious street food made from anchovy fish sauce and rice noodles
Bun Mam should be tried by every stranger visiting the city! Spicy fish sauce goes very well with roast pork and pork ham. The meat taste is leveled out with a salad made from papayas and herbs. There is one street in town that only sells Bun Mam, this is Tran Ke Xuong Street.
Bun Cha Ca – noodle soup and fried fish cakes
Noodles are the specialties in the Da Nang kitchen. Fried fish cake made from lots of fresh fish. The broth is made from pumpkin, cabbage, pineapple, tomatoes and dried bamboo shoots and is not only very tasty, but also healthy. The mixture of different flavors gives this dish its delicious taste.
Banh xeo, nem lui – rice pancakes and lemongrass skewers
Nem lui- is made from ground pork, occasionally also from beef and many spices. This mixture is wrapped around a lemongrass stalk and grilled. At the end there is smoky meat that is dipped in a special sauce. Banh xeo – This rice dough is mixed with turmeric and coconut milk. It is fried in a hot pan. Pork, shrimp, bean sprouts, onions and mung beans are added and the whole thing is folded like an omelette.
Avocado ice cream – popular dessert!
Avocado ice cream is very popular with teenagers because of its greasy taste. It consists of avocado pulp, coconut cream and desiccated coconut. To try the delicious dessert, head to Mrs. Van's stall in Bac My An market.
Banh beo – delicious steamed rice cakes
These delicious little circles are made from mixed rice, a combination of rice flour and tapioca flour. When the batter has steamed out, toppings are added: peanut, pork, shrimp, black mushrooms, etc.
Oc Hut – Crunchy and tasty!
The snails are cooked in a saucepan with chilli peppers and lemongrass. This food looks irresistible. The dish is accompanied by a spicy and sour papaya salad.
Com Hen – ideal mix of fragrances with different textures
Com Hen a street food consisting of chillies, peanuts, sesame seeds and coriander offers the perfect taste. nYou get a small bowl of mussel broth with it. You can pour it over it or drink it while you eat.
Conclusion:
Whoever visits Da Rang in Vietnam should definitely try the dishes presented above. Tourists will rave about it for a long time and maybe try to cook Da Nang's street kitchen at home!