A unique experience – water puppet theater – waiting for strangers in Hanoi. Only in the country of Vietnam are there such water puppet players. The water puppets stand up to their hips in the water and with the help of bamboo poles, the movements of the figures are directed from there and the water puppets tell many stories.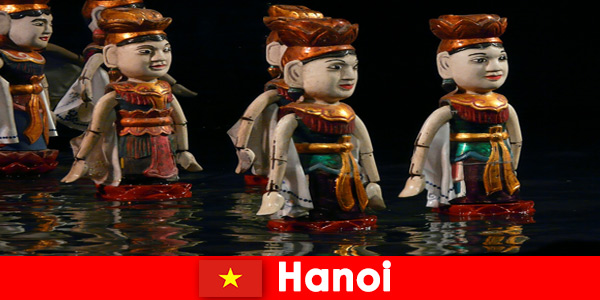 Long tradition from father to son
The technique of the water puppet players in Hanoi is passed on from the fathers to the sons. The figures that are used here in the performances are carved by the puppeteers themselves. The stage is in the water and the audience is dry. The players themselves cannot be seen. The players are behind the stage wall and from there the wooden figures are directed and moved. The performance is accompanied by a small orchestra with Vietnamese musical instruments.
The origin of such a water puppet theater
This art of water puppet theater originated in the 11th century in the Red River Delta. The plain there has been frequently hit by floods. That is why the local farmers came up with the idea of ​​playing in the water instead of on the land. That is why each performance was repeatedly set up in the rice fields, in a lake or in a river. The content still consists of short everyday scenes and legends. Farm life is re-enacted in the everyday scenes. Like the rural population, the figures fish, harvest, plow and scoop water and the everyday life of the rural population is recreated. Stories from classical literature or legends from domestic history are also told in the theater scenes. The locals and foreigners follow the skills of the players with great attention.
The water puppet game inspires and is unique
This water puppet game is now operated very professionally and with government subsidies and is therefore an attraction for tourists and locals alike. The Thang Long Theater on Hoan Kiem Lake in the country's capital is one of the most famous venues for this. There are 2 performances there every evening. A large number of tourists are there as visitors. This puppet game is now known all over the world. The theater mentioned above has already toured Europe several times. This Vietnamese tradition is unique.