Ho Chi Minh City is the largest metropolis in Vietnam. In this metropolis, most holidaymakers set foot on Vietnamese soil for the first time. In its current form, this holiday destination is still young. Almost all of the buildings were completed in the past century. Ho Chi Minh City is of greater importance for tourism in Vietnam. Most sports fans, cyclists and tourists make a stop in the big city during their round trip.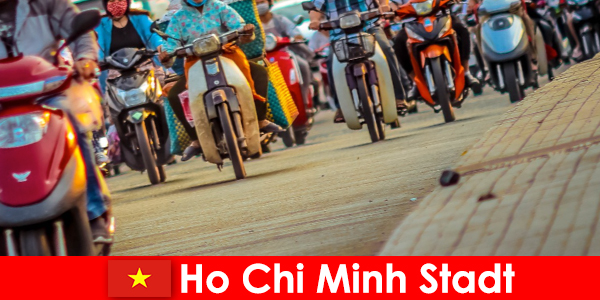 Sights and leisure activities
The city offers vacationers several contemporary, colonial, and cultural attractions. It has numerous, extensive parks and is the perfect starting point for unforgettable excursions. We recommend a trip to the Mekong Delta, a motorcycle tour on your own through the area, a guided city tour and a street food tour. Anyone interested in the Vietnam War and its background should take a trip to the Cu Chi Tunnels. They can be reached in around 90 minutes by car from the city center. During the war they were used as hiding places. It even housed schools and offices. The city and the surrounding area can be easily explored by bike.
Other worthwhile sights in Ho Chi Minh City are the Opera House, the Mariamman Temple, the Reunification Palace, the main post office building, the Notre Dame Cathedral, the Jade Emperor Pagoda, the War Remnants Museum, the Skydeck, and the Ban Thanh Market.
Recommended tours for cyclists
Vietnam is a Mecca for cyclists and sports fans. If you don't feel like conquering inclines on your bike, the Mekong Delta is the place for you. Sports fans will be rewarded with magnificent exotic nature and fascinating palm trees during their tour through the Mekong Delta. A tour on the Ho Chi Minh Trail is also recommended for cyclists. This route combines history, adventure and culture. During the Vietnam War, supplies, mostly by bike, were transported on this trail.
The trail stretches for a total of approximately 2000 kilometers. It guides cyclists through spectacular nature. The spectacular landscape remains unforgettable. Tour operators offer tourists guided specific bike tours. The offer includes guided sightseeing tours, themed tours, day tours and multi-day tours. Sports fans will also get their money's worth in Ho Chi Minh City. For example, vacationers will find body shape courses, push rock climbing, jumping in a modern arena. Swimming, golf and various outdoor activities are offered.
Accommodation, food, drink and shopping
The national cuisine of Vietnam is popular beyond national borders and extremely diverse. From various noodle soups to sandwiches to rice dishes, everything is offered to holidaymakers. Tourists should definitely try the sandwich Banh Mi and the soup Pho. Different variants of the sandwich are offered, for example one with a fried egg and one with pate and different types of meat.
Freshly prepared spring rolls are also a delicacy. They are made from rice paper and are therefore almost transparent. Since they are neither fried nor deep-fried, they are very healthy and also recommended for athletes. The filling consists of fresh shrimp, glass noodles, crunchy iceberg lettuce and lots of mint. A chilli or peanut sauce is served with it.
Fried rice (Com Tam) is on the menu in almost every restaurant. It is often eaten for breakfast in Ho Chi Minh City. The main ingredient of this dish is broken rice. Put a piece of grilled pork on top of the fried rice. Every traveler should try this traditional dish once.
The city also delights tourists from all over the world with its excellent accommodation in all price ranges and numerous modern shopping opportunities.