A real insider tip for travelers is definitely Vietnam. Because here several million people live in harmony with each other and the core center is clearly the Vietnamese capital around Hanoi. More than 3.5 million people live here in friendly harmony with the natural surroundings and invite tourists from all over the world to treat themselves to a few relaxing days here. It is noticeable how invigorating the city itself is, but also how historically it is shaped by many ages in order to be able to perfectly justify the trip culturally, historically and out of pure curiosity. Tourism has long since arrived here, but Hanoi is still one of the absolute insider tips, as we cannot speak of a huge tourist area by far. This makes the partly untouched nature all the more vivid and is another reason why the Vietnamese capital has to be visited in any case.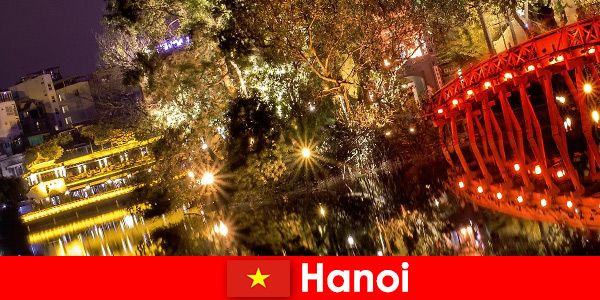 The Vietnamese capital is a city full of history
With its capital, Vietnam has one of the oldest capitals of all. It goes back to the 11th century and has many archaeological finds that go back to the Bronze Age. That is quite a bit of history, which is at home here and can of course be discovered locally by the holidaymakers with the help of numerous sights. For example, the Ngoc Son Temple is an imposing and worth seeing highlight of the city, which was built in the 18th century. Tourists are also warmly invited to prayer here, while locals traditionally provide offerings. The entrance with the tiger statue already stands out, but inside it also becomes clear why travelers should pay more attention to the temples in the capital.
Meanwhile, with the Tran Quoc Pagoda Shrine, a really impressive building from the 6th century awaits the tourists, which is certainly to be rated as a highlight. 11 floors protrude from here at a height of 15 meters and are really suitable as a gigantic photo motif when the weather is great. Incidentally, both with the shrine and the temple, it should not be forgotten that the natural surroundings conjure up the places in the capital to a real eye-catcher.
Hanoi's Old Quarter also invites tourists to culinary highlights
Tourism is particularly evident in Hanoi's Old Quarter. Because here you can of course recognize the strangers who romp around here from time to time. No wonder where there are currently many Vietnamese delicacies waiting for the European or Western palate. The healthy cuisine of Vietnam is a culinary highlight for everyone and also very health-conscious. Even star chefs from all over the world like it and that is known to mean something. In addition, there is a mixture of bamboo merchants, classic shopping mile and enjoyment in 36 alleys in the old town, but of course there is also one or the other clothing store.
Just take a walk on Hoan-Kiem Lake, enjoy the splendor of the shore or enjoy a visit to a restaurant on small stools in a typical Vietnamese way – this city offers everything that really makes a tourist's heart beat faster. How about some delicious food on the shore of the lake like the Bia Hoi? But Vietnamese coffee is also a completely new way of enjoying the capital in all its diversity. A Vietnamese beer like this certainly doesn't hurt to pay more attention to Hanoi's small pubs. A rickshaw tour can certainly offer a very unique impression of the capital and is also very inexpensive. A look at the notorious Train Street is also recommended, where the train passes close to the residents on narrow streets and should really trigger an adrenaline rush. While the "icon" of the city is more likely to be found in the Long Bien Bridge and should not be missing as a final highlight for a good view of the Vietnamese city.
Tourism in Vietnam cannot yet be compared with mass tourism!
Tourism in Vietnam has really not yet spilled over, which should certainly contribute to making people interested in a trip to the capital. Because far away from mass tourism, one thing is certain, there is a lot on offer here, so that sufficient storage capacity on the cameras is recommended! Because attractive temples, Buddhist shrines and culture everywhere you look – that is Hanoi! Planning a trip makes all the more sense, now that everyone is aware that so many tourists don't stop by, so that you always get a natural and unadulterated Vietnamese impression.