Many travelers opt for multi-day cruises because these bundled together allow several impressions at once. Especially the Ha Long Bay in Vietnam is very popular among the many tour groups because it is known worldwide for its magnificent beauty and picturesque scenery. In the meantime, it should not be left out of the fact that the inhabitants of Vietnam stand for a friendly and open nature, in order to welcome holidaymakers with open arms. This is why this travel destination is so popular that the next vacation planning should definitely look over the pond to get to know the Vietnamese culture and province in the north around Halong Bay better.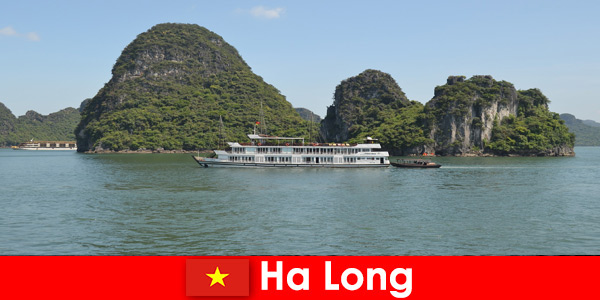 Halong Bay – experience a world cultural heritage up close!
Meanwhile, Halong Bay in North Vietnam is not missing among the many world cultural heritages. Over 1500 limestone islands make themselves picturesque in this enchanting bay, to inspire travelers with an imposing beauty that you will not see a second time in the world. In addition, the picturesque bay stands for unbelievable leisure activities, which of course also include cooling off. The Vietnamese culture, however, stands for friendliness, so that travelers will feel extremely comfortable here. From the floating village to the bat grotto to the junk you can find a lot here that makes Halong Bay a really beautiful destination. Anyone who has not yet been there must definitely do so.
Tour groups are enthusiastic about Vietnam's friendliness and beauty
For many years Vietnam has stood for quite untouched nature and associated numerous special features that are often neglected in industrialized countries. Ha Long Bay is one of the excursion destinations that shows the Vietnamese charisma from the start and that is the reason why so many travelers like to stop by here. Vietnam is popular and it goes without saying that the locals are also responsible for this hype, where the inhabitants of Halong are friendly, welcoming and extremely polite to their tourists.
Wanderlust and adventure
Multi-day cruises are varied and, above all, full of impressions that turn a vacation into a real adventure. After all, some of the attractive cliffs of Halongs can also be impressively viewed from the inside in the caves, where in the Thien Cung cave there is an incredible beauty of limestones, which must be captured as a photo motif. The Chicken Island is another beauty that invites tourists to take a closer look. Whether swimming in the bay, by kayak or boat – this wonderful trip will be unforgettable and stands for so many beautiful memories that can be captured as photos. Of course, you need to plan a cruise through Halong Bay quickly, which can be done quickly.