Ha long Bay in northern Vietnam is one of the most beautiful and popular travel destinations in the region. The world-popular bay fascinates holidaymakers with miles of dream beaches, interesting sights and breathtaking unique landscapes and is therefore a popular holiday destination for foreigners.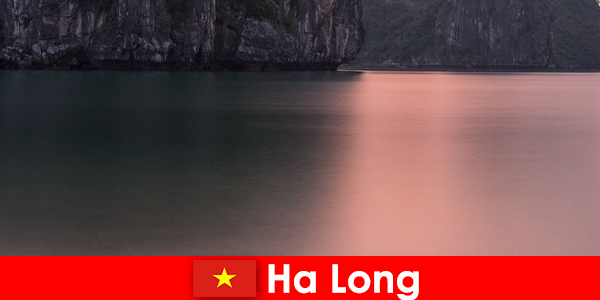 Ha long Bay – a fascinating seascape
According to legend, the bay was created by a dragon. The bay is considered one of the most beautiful seascapes and was therefore included in the World Heritage Site in 1994. The world-famous bay can be reached in three hours by car from the capital. The area of ​​the marine landscape comprises around 2000 islands and a total area of ​​1500 square kilometers. The largest island has been developed for tourism.
Excursion possibilities and sights
The holiday destination is itself a sight. Small, interesting attractions that are well worth a visit include lookout points, floating villages, islands and caves. Travelers are also offered numerous tours. A highlight is a boat trip through the seascape. The tours are offered to holidaymakers in different variants – from a simple wooden junk to a luxurious cruise ship. If you want to take a tour of the bay, you should definitely consider in advance how high your personal budget is and what requirements are made in terms of comfort. The tours can be booked by foreigners as a day tour, a two-day or multi-day tour, a weekly tour or a two-week tour.
Popular activities
The national park covers more than a third of the marine landscape. It is the natural habitat of rare plant and animal species. For example, holidaymakers can observe yellow orchids and golden poppy langels here. The 18-kilometer hiking trail in the national park leads to a fantastic vantage point.
A trip to one of the small floating villages by ferry is also worthwhile. The villagers live from selling souvenirs and growing pearls and fish.
There are several caves to explore on most of the islands in the bay. Guided sightseeing tours are offered to vacationers. Attractions in Vietnam Bay are Luon Cave, Sung Sot Cave, Quan Y Cave, Hoa Cong Cave and Thien Cung Cave.
Food, drinks, shopping and nightlife
The holiday destination has a good infrastructure. Many small, cozy restaurants offer delicious dishes from Vietnamese cuisine. The restaurants charge higher prices than vendors in a market. From the restaurant, vacationers can enjoy a fantastic view of the world-famous bay.
Many restaurants and most of the hotels can be found at the ferry and boat docks and near the beach. Some restaurants offer tourists international dishes, such as fried chicken with fries and pizza.
Overnight stays on a ship are popular with foreigners. In addition, there is an abundance of other accommodations available in Ha long Bay and on the mainland to suit all budgets. Ferries operate between the bay and the mainland. On the mainland, transport is carried out by minibuses and taxis.
Handicrafts and souvenirs are sold in small shops, as well as in the floating villages and floating markets. Smaller boutiques offer further opportunities for shopping. Those who value a large selection of shopping opportunities should take a shopping trip to one of the larger cities in Vietnam.
Nightlife is also offered to tourists in Ha long Bay in Vietnam. Younger backpackers mostly party on an excursion boat. There are also some bars in the bay to celebrate. If you really want to party, you should choose one of the larger cities in Vietnam as a holiday destination.