Da Nang delights tourists not only with cultural treasures, breathtaking nature and white dream beaches. The coastal city is known far beyond the country's borders for breathtaking fire shows. The International Fireworks Festival, which has been held annually since 2018, is also known as the "Symphony of Colors". The competition is held on the river.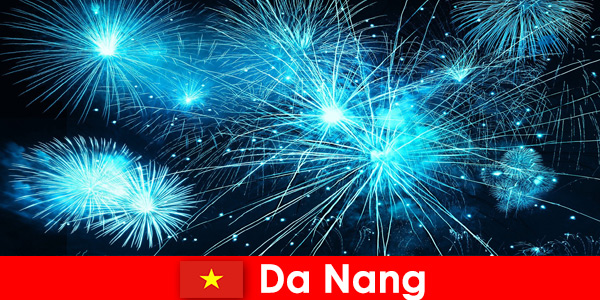 Dates for the fire shows
Tourists who want to experience one of the fire shows live should note when planning their travel that the festival is held annually in the city from the beginning of June to the beginning of July. The Dragon Bridge at the holiday resort will delight you with another fire show. The bridge in the shape of a kite is 666 meters long. It looks like a dragon snaking fire-breathing through the bridge. This attraction is already visible from afar. The bridge connects the city with the excursion destinations in the hinterland and the airport. From dusk, thousands of LED lights illuminate the oversized kite, which also spits water and fire.
"Symphony of Colors"
In addition, a spectacular fire show at the Drachenbrücke is organized in the city every Saturday and Sunday evening from 9 p.m. all year round. Optimally, tourists can admire this show from restaurants at dinner or from a bar. The Dragon Bridge is closed to vehicles during the event. Another popular attraction is the bridge known as the "Hands of God". It's popular as a backdrop for wedding photos and one of the most visited attractions in the country. Pyrotechnic shows are started from a floating stage. The high competition from participants worldwide guarantees that every fire show is breathtaking and unique. Each participant has 20 minutes to prove their skills. This top-class event is accompanied by a lot of music. The festival visitors are also offered delicious dinners and other entertainment. Not only is every single fireworks festival show worth seeing, but also the backdrop. Representative buildings form the background of the floating stage from which every fireworks display is started. Visitors have the option to purchase tickets to watch the spectacle from the main grandstand on the east side of the river. The stage was equipped with a large LED screen so that the audience can follow the performances on stage perfectly from every seat on the grandstand.
Sparkling weekends
During this event, the atmosphere throughout the coastal city is carnival-like, festive, and lively. Musicians, dancers and other street artists perform along the entire street on Sunday evenings to entertain residents and holidaymakers, for example at dinner.
Other highlights in Da Nang
It is worthwhile for vacationers to spend several days in the coastal city. One of the most famous attractions in the country are the Marble Mountains or "Non Nuoc". These five mountains are named after the elements metal, earth, wood, water and fire. In the vicinity of the mountains there are also several special temples and caves that are worth visiting. The view from the hills over the entire Da Nang region is also breathtaking. The entertainment and relaxation area is popular with locals and holidaymakers alike as a backdrop for vacation photos. Another attraction at this square is the amusement park with the adjoining breathtakingly beautiful fairy tale garden. There are also numerous markets in the center of the city. Here holidaymakers can have clothes and shoes made to meas