Colorful, captivating, flashy – the Spanish capital, with around 3.2 million inhabitants, is one of the hippest metropolises in the world and has always been a popular travel destination for young people from all over the world. Whether it's an exchange program, class trip or excursion – Madrid always has the right combination of adventure, vacation and personal growth ready for schoolchildren. As diverse as the people who are attracted by the magnetic attraction of the city like the famous moth to light, the possibilities and life on site are just as exciting.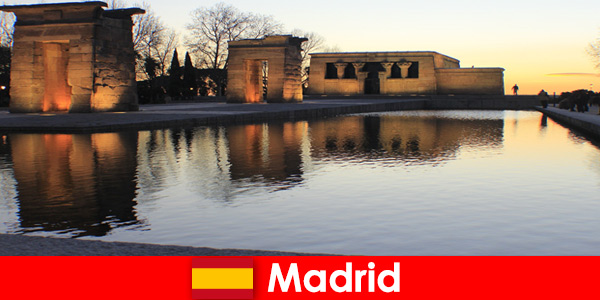 Culinary delicacies
Madrid is bursting with varied street food on every corner and has a wide range of Spanish specialties ready for basically every palate. Not only meat-eaters get their money's worth here, but also vegans and vegetarians, as in every major capital city. As always, the so-called 'tapas', small appetizers, which are preferably served with alcoholic drinks in bars and bodegas and only consumed in good company, are particularly popular. Those who prefer to cook at home with friends will be delighted by the wonderful range on offer in the local markets – fresh fruit and vegetables in all variations, fragrant spices and exotic samples provide that certain something and true culinary delights in your own four walls. Young people find inspiration and original recipes in particular through the many culinary Internet accounts of local influenza residents.
Art and culture on a grand scale
The capital of Spain is a hot (s) pot for amazing innovations, art projects, flashy and fashionable outfits, rousing music, street concerts, handicrafts and much more – if there is a city that never sleeps, then it is probably Madrid. A conurbation for young ideas and personal development. European schoolchildren benefit from the numerous perspectives and acquaintances that arise in the popular university town. In the course of excursions, a visit to the 'Triangolo del Arte' is highly recommended, which houses great art collections in a total of three different museums – a world-famous meeting place for art, painting and photography fans, as well as those interested in their botanical and / or archaeological background knowledge and want to meet like-minded people in the triangle of art.
Family atmosphere
During a tourist photo stroll through the center, one thing is immediately noticeable – the residents seem to know each other! There is a friendly greeting on every street corner, one smile chases the other and those who already speak a little bit of Spanish will pick up one or the other friendly snippet of words. This is because the popular travel destination in the inner city has developed its own dynamic of its own over the years, with individual residential areas functioning almost like small villages. The atmosphere is wonderfully familiar and also invites European schoolchildren to relax and linger. Getting into conversation with locals is easy here. Generally speaking, Spaniards are known for their openness and hospitality. This fact can be experienced first hand during an excursion.
Tips for young people
Apart from the numerous recommendations that are printed in travel guides, there are some insider tips that should be of particular interest to young people. For example, near the 'Puerta del Sol' it is worthwhile to take one or the other winding turn off the main street to end up in one of the many small, colorful shops that offer original fashion, jewelry, souvenirs and handicrafts. A visit to the extensive 'El Rastro' flea market always has a surprise in store! Enjoying 'churros' after a visit to a museum in the city center is a real treat, or outside the city for visits to the famous monuments. Letting your soul dangle over the roofs of the popular travel destination, enjoying the sunset and sipping cocktails is also an experience! Last but not least, we recommend a detour to the Retiro – the most popular city park in Madrid, which is ideal for strolling, eating ice cream and picnicking, as well as for sporting activities and fun meetings with friends. We wish you an exciting stay in Spain!