Where is the best place to unwind than in the beautiful cosmopolitan city of Madrid in Spain? Not only football history was written here, but there is also a lot to experience in this city.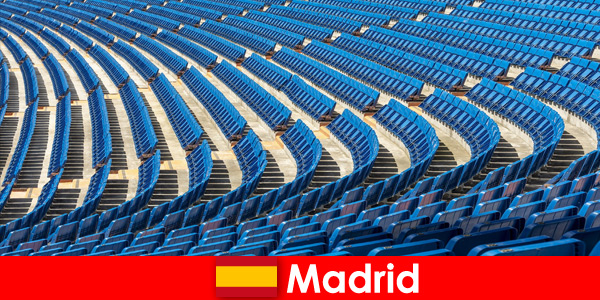 The capital of Spain
This city has about 3.2 million inhabitants and is the second largest city in Europe. The metropolitan region with 7.2 million inhabitants is one of the best-known and most popular cities in Europe. It's no wonder that holidaymakers are drawn to this area. For centuries, this city has been the heart of Spain. In addition to 6 universities, there are also various colleges.
Wonderful leisure opportunities offer guests relaxation and adventure at the same time
Theatres, museums and cultural institutions offer holidaymakers an exciting journey into the past. But contemporary art can also be found here. Definitely worth a visit for all art lovers. The wonderfully designed squares also offer relaxation from everyday life. Among other things, Plaza Mayor which is located in the center of the old town but also Plaza de Cibeles should be seen. Especially the latter convinces with the three biggest sights of Madrid. These are the Fountain of Cybele, the Palacio de Comunicaciones and the Banco de Espana. Championship celebrations of the football club are very popular here. Football fans will also get their money's worth here.
Museums as far as the eye can see
This city is known for its numerous museums with a wide variety of topics. The Museum Triangle is located on the Paseo de Prado. The three most important museums are located here. These are Museo de Arte Thyssen-Bornemisza, Museo Nacional Centro de Arte Reina Sofia and Museo de Prado. In addition to these three museums, there is also one of the most important painting museums in the world, a museum with the world's most important private collections from the 14th century, a bullfighting museum and a wax museum.
Famous streets in Spain
Holidaying in Madrid you will find important streets with artistic buildings. There are numerous large cinemas and fashion shops on the Gran Via. Large hotels and the Prado Museum are located on the Paseo del Prado. Calle Huertas is a writers' district. The most important writers lived here in a very small space. If you stroll through these streets, you have the feeling of being right in the middle of what was happening at the time.
Sports as far as the eye can see in
Sports lovers will be very happy here on vacation. Three football clubs are based here. Football history was made in Spain. A basketball club is also located there. The New Year's Eve run with the most participants takes place in this cosmopolitan city. These impressions are just a few of many. The best thing is to plan your next holiday here and look forward to what you can experience.