As the second largest city in Spain, with a lot of culture and art, Barcelona attracts numerous tourists every year. Since the city is by the sea, you can also combine a beach holiday with it after so much culture. Here visitors can find what their heart desires.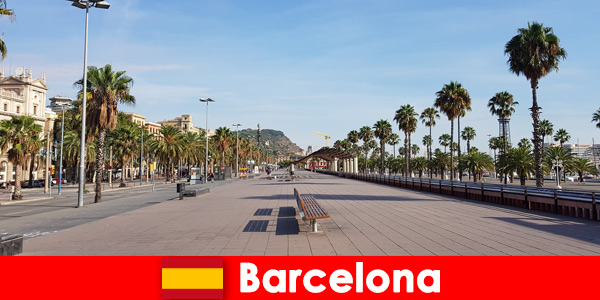 Always worth a visit as a cosmopolitan city
Barcelona is known as the city of Gaudi. Trendsetters love this city because of its modern buildings, the unique shopping opportunities and the lively life. A stroll along the famous Ramblas is enough to soak up the liveliness of the city. The old town looks neat and original at the same time. Modern design meets extremely interesting artistic works here. Street cafes invite you to socialize. In the evening, the boulevard invites you to stroll by the sea. Sun worshipers can sunbathe on the city beach and cool off in the cool waters of the Mediterranean.
Sights – you should definitely visit
The famous Roman Catholic basilica and the Casa Battillo should definitely be visited by every vacationer. Built in waves without corners, the structure with its scale-like arrangement of mosaic stones is reminiscent of the sea with waves and its inhabitants. Park Güell is a Unesco World Heritage Site. Tired tourists find relaxation here and can recharge their batteries after a strenuous city tour. Anyone interested in modern art should definitely not miss a visit to the MEAM, Museum of Modern Art in Europe. Male visitors in particular are interested in the largest football stadium in Europe. While the male vacationers visit the stadium, the female visitors can spend their time shopping in the many malls of the cosmopolitan city. This small excerpt of the cultural is really only a fraction of what this wonderful city has to offer.
Live and eat like the Spaniards
Spaniards love life, going to street cafes and their wonderful food and wine. While on vacation in the Catalan metropolis, every tourist should eat an original paella and enjoy a local Spanish wine. Many small tapas bars invite you for a small snack in the old town. If you are looking for sweets, you have to try the Crema Catalana in Spain. The well-known churros should not be missing with the coffee. Saturated and culturally exhausted, the holiday guests can then plunge into the Spanish nightlife. At the end of these great days in the unique city, you will find that there is really everything your heart desires.