The city of Jeju is the largest and southernmost island in South Korea with over 1833km² and is popular with both Koreans and foreigners. The capital is booked by several million visitors every year for both honeymoons and tourist trips of all kinds. The most important cultural heritage of the island city are the well-known stone walls, which are spread over the entire island in the shape of a spider web and on the one hand were intended for fishing in flat spots, and on the other hand were once intended to secure the graves of the deceased. Foreigners benefit from the fact that almost perfect English is spoken in Korea.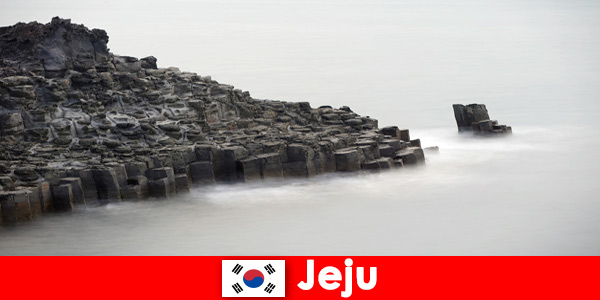 Popular excursions and activities
On "Love Island", a somewhat unusual park for lovers, in which personal trees are planted and regularly visited afterwards, but also photos with statues in clearly shown love poses, you can find a wide variety of impressions of the love story. There are also cakes that can be bought in the form of genitals. The island is therefore a popular travel destination for lovers and is in great demand with couples of all ages. The most popular attractions include Seongsan Ichulbong, a crater mountain that was formed from volcanic rock. The Jeongbong Waterfall attracts countless tourists every year to its cliffs to marvel at the sea and enjoy a breathtaking view.
Historical and Customs
Culture lovers will also not miss out on an excursion in South Korea and can enjoy the ancient historical shrine Samseonghyeol as well as a lecture on the historical background and the origins of the same. Every year the shrine is visited by innumerable domestic toruists. Numerous foreigners also find their personal highlight and enjoy popular excursions around the island. Jeju has some traditions that are different from the rest of Korea. For example, old shamanic customs are still common here.
Leisure activities and tourism
Jungmun Beach, which is located on the south coast of the island and offers water sports enthusiasts a variety of possibilities to get a little closer to their dream vacation, is recommended for a beach holiday. Lovers of pleasure will find what they are looking for at the markets in the city center. Here you can try cactus fruits, which are processed into various sweets and also contain alcoholic beverages. Local specialties such as sea bream, as well as meat from an old domestic pig breed in combination with various spices and sauces can be tasted in the surrounding restaurants.
If you want to enjoy the nightlife after the entertainment-filled days, there are several bars, nightclubs and discos in the city center for the perfect end to the province.