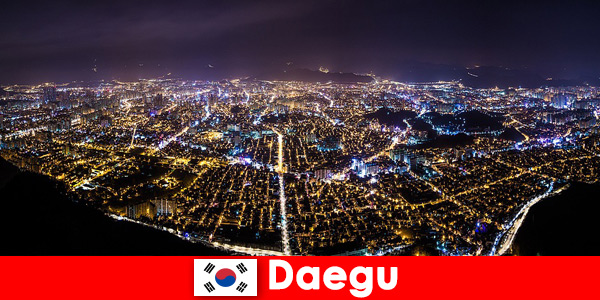 Not only the foreigners on their travels around South Korea, but also the locals love Daegu Night Market for the variety of food and more. The market is located to the west of Daegu City Walls.
Everyone loves the night market in Daegu
Seomun Market is a real hotspot. As a traditional market in South Korea, it is particularly well known for its variety of textile products including silk, fabrics, knitwear. A large number of handicrafts are also offered and displayed at the market. There is always a lot to see at this market, but especially in the evenings, when the night market opens, you can experience an indescribably beautiful atmosphere, especially as a foreigner. Seomun Market was considered one of the 3 largest markets in the nation in Joseon Dynasty, and its night market is much larger than any other today. About 80 stalls line the streets and most of them prepare delicious food. Among other things, Korean delicacies such as tteokbokki, a rice cake with hot chilli sauce and mandu, dumplings with a minced meat filling, are offered. International dishes are also readily bought and eaten at the market. The market opens at 7pm on weekday evenings and closes at 10:30pm. On weekends it closes about 1 hour later. However, the market is not open on Tuesday nights.