South Korea is not only known for its fascinating sights, but also for its wonderful dishes. Because very distant Asian delicacies await here, many of which may have never heard of in their homeland. Quirky dishes, lots of sweet things, noodles, rice, but also well-known dishes that are really pimped up are all around Seoul. In any case, travelers should try to eat the local street food, which is authentic, varied and incredibly delicious. Not to forget that the prices are affordable to eat Korean food.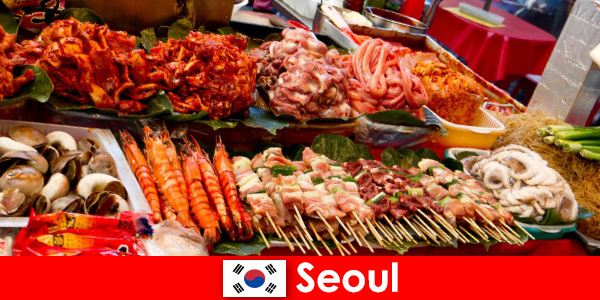 Street food has a long tradition in Korea
Street food emerged from poverty as well as to introduce tourists to local dishes. Local food, some of which presents treats that have never been seen before. Just a scrambled egg? In the southern part of Korea this is embellished in many ways in such a way that most travelers have probably never seen it. Fried foods are also very popular in South Korea, so soul food is making the rounds in Seoul. Entrants can look forward to delicious breakfasts, lunches and dinners, which are offered cheaply on every roadside. It is of course a backbreaking job for the local traders to support the family in the otherwise expensive capital, but they love to do it to offer tourists the variety that the country has to offer. Everything is fresh for the day, including meat and fish – the South Koreans attach great importance to this, even on the roadside.
The street food of South Korea is known worldwide
In southern Korea everything is fresh, flavorful, simple and yet traditionally diverse. Such an incredible variety of recipes is seldom discovered as a traveler, but one should take them to heart. In the Myeongdong District in particular, there is a multitude of street food to be tasted that has it all. If you like it spicy, you've come to the right place. But if you want to get involved in culinary novelties, too. Nevertheless, common and not so unusual dishes are also on the menu of the day in order to bring travelers closer to the delicious food culture of the country. By the way, nobody should stop by Gwangjang Market, where street food is almost part of the tradition. The first bars open here early in the morning and some are completely sold out during the day. A look here is worthwhile for every palate! Delicious rice soups, noodle soups or rice rolls are offered locally, but of course Mayak gimbaps are also offered here. If you are still hungry, don't forget the Hwe and Korean pancakes.
Starving to death in South Korea is unlikely to happen. Especially not when newcomers have chosen the metropolis of Seoul, where street food is already considered good form. It represents the South Korean cuisine at a high level and is celebrated by many star chefs worldwide. Such delicious, well-seasoned and sometimes extremely healthy recipes despite meat or fish are not easy to cook. And of course the South Koreans do not allow their highlights to be taken away locally and prove once again why obesity is not on the rise in Asian countries and why the oldest people live. Here you just have to do seaweed, raw fish, noodle soups, various egg dishes and the like as street food to know what real culinary delights are – because South Korea's soul food can be found at the respective street food stands.