Toronto presents itself with its cosmopolitanism and the wide range of music as a popular travel destination for people from all over the world. The largest city in Canada with its 2.8 million inhabitants * combines cultures, culinary delights and various sights. With its location on Lake Ontario and its proximity to Niagara Falls, this metropolis brings modernity and nature together in a special way. Strangers are attracted by the city in Canada but also by the fantastic music scene, which can be admired every evening in a multitude of music clubs and bars.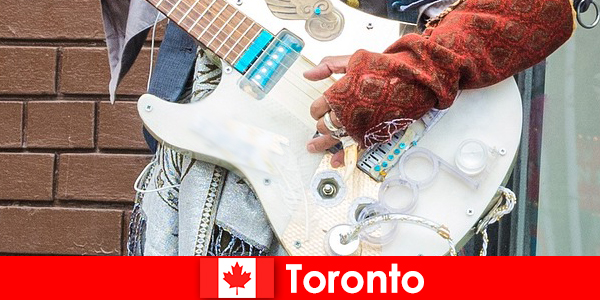 Rock and Indie
Anyone who can get excited about concerts will love Toronto. In small to large locations, artists and musicians perform solo or with a band every evening. The city's cosmopolitanism is also evident from the local and international artists who present all imaginable musical genres. So there is really something for everyone. Cameron House mainly promises indie acts. However, if you walk a little further down Queen Street West, where the location is located, you will come to the Horseshoe Tavern. Different musicians play here every evening, depending on rock, country or indie. The Opera House also promises a selection of bands for hard rock and heavy metal fans. Furthermore, different cultures can be found, so the Latinx music scene is also strongly represented. We recommend the Lula Lounge and Youca's Lounge.
Jazz Festivals
Jazz also plays a major role in the city. In addition to the wonderful Jazz Bistro on Victoria Street, downtown is also home to the Reservoir Lounge. The most legendary location, however, is the Massey Hall, where the breathtaking acoustics repeatedly attract well-known music greats from Canada. But summer is the ultimate season of jazz in the city. Three festivals offer a varied line-up of musicians, artists and bands. In addition to the legendary TD Toronto Jazz Festival and the Beaches International Jazz Festival, the Kensington Market Jazz Festival has recently become a temptation for locals and foreigners.
Clubs and party scene
Apart from the smaller and larger concerts and festivals, the club and party scene is also broad. Fans of EDM and techno get their money's worth in the CODA and the Mod Club. Here you can dance, party and drink, while local and international DJs create the right atmosphere with their sets.
Classical and Opera
Anyone visiting the metropolis should definitely visit the city's concert halls. The Roy Thomson Hall is the seat of the local symphony orchestra and a large number of other concert halls offer stages for ballet, opera and theater. After all, the city has the third largest theater scene in the area. For example, the 1907 Royal Alexandra Theater is known for Canada's Walk of Fame, which honors 131 Canadian celebrities from the fields of music, acting and sports.
The Canadian city combines a selection of music genres and locations that is special even in a global collation. Regardless of their own musical preferences, everyone can find several clubs, bars and concert halls where they can get their money's worth. From smaller local musicians to internationally known stars, the city offers a different, new experience every evening. Toronto's music scene is not only famous and popular in Canada.