Lisbon is the capital of Portugal, as well as the largest city in the country. It is located in the west of the country directly on the coast to the Atlantic. The city is part of the country's cultural center, where a lot can be discovered. Foreign students and schoolchildren in particular will like it here. The city offers many inexpensive hotels for foreign students and schoolchildren.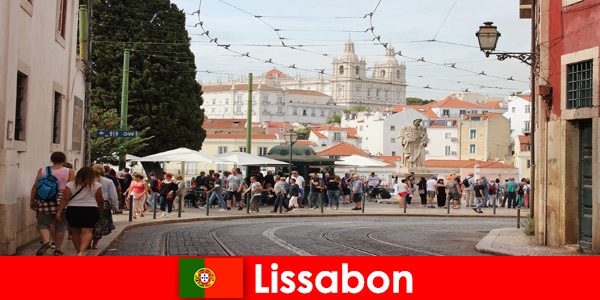 Eléctrico 28
But if you are already in the capital of Portugal, you don't just want to stay in the hotel, you also want to see the city's sights. One of the sights is Eléctrico 28, the city's 28 tram. The entire tram network is historical and famous beyond national borders. But especially the line 28 invites tourists with a beautiful route through the capital. Once you get on the bright yellow train, the lines run through narrow streets in the old town. The trams even have to overcome gradients of up to 13.5% on sometimes adventurous routes. But the trip is rewarded with the famous sights, which you can see from the window. Tip: if possible, take the Elèctrico 28 in the morning, at this time the train is not yet so full.
Ponte 25 de Abril
The Ponte 25 de Abril (translated: Bridge of April 25th) crosses the Tagus River, which flows through the city. The modern-looking bridge, clad with a red facade, is 3.2 kilometers long. It lies majestically over the river. From up here you have a fantastic view of the river and parts of Lisbon. But be careful: the city may not be crossed on foot or by bike. Still, it's worth renting a car or a taxi for this beautiful view.
Cristo Rei statue
Right next to the Ponte 25 de Abril and at least as majestic is the Cristo Rei statue. The statue was built based on the model of the world-famous Christ the Redeemer. From above, at a height of 82 meters, you have a magnificent view of Lisbon as well as the Ponte 25 de Abril and Tejo. This excursion can be particularly cozy in the evening hours when you wait together for the sunset directly over the Ponte 25 de Abril. This view will be unforgettable.
Rossio or Praça de D. Pedro IV
The Praça de D. Pedro IV, or Rossio for short, has been one of the most important squares in the city since the Middle Ages. In addition to the central fountain and several statues, you can also meet many local artists in the square here. In the vicinity of the city you can also find inexpensive hotels quickly.