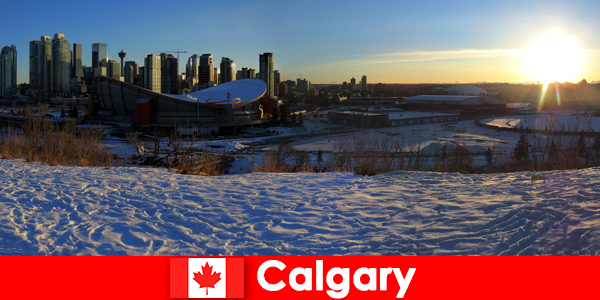 Calgary has 1,239,220 inhabitants, is located in the southern part of the province of Alberta, at the confluence of the Elbow and Bow Rivers, is Canada's fourth largest city, offers a wide range of winter sports and leisure opportunities and recreation for Canada lovers. Just a short drive away, the Rocky Mountains offer a variety of beginner and intermediate ski resorts. Ski Hill, Mount Norquay and Lake Louise Ski Resort are ideal locations for skiing or snowboarding. If you like cross-country skiing, there are numerous trails in the area. The city itself also offers many opportunities for winter outdoor activities. In the Olympic Plaza, the ice rink and curling rink are open during the winter. In winter, trails for walking and snowshoeing are also maintained.
Opportunities for warm rest
For those who prefer to relax indoors, there are several options for recreation. The Glenbow Art Museum features a variety of exhibits related to Canadian history and culture. The Tellus Spark Science Center is an interactive museum that is interesting for both children and adults. In winter, the city also hosts numerous cultural events, including theater and concerts.
A vibrant culinary scene
Calgary also has a vibrant culinary scene with many restaurants offering Canadian cuisine. There are also numerous cafés and bars that invite you to spend a cozy evening. Overall, Calgary offers a wide range of winter sports and recreational opportunities. The proximity to the Rocky Mountains and the numerous outdoor activities make the city of Calgary a great winter destination for Canada lovers.