Japan is not only the land of the rising sun, but one of the friendliest countries in the world. Osaka is the third largest city in the country and always worth a visit. The twisted city in Asia is invigorating, friendly and belongs in the upper ranks of the entertainment arts. A wonderful trip in the heart of the Japanese west will certainly not be boring, and that makes your curiosity all the greater. Let's go on an adventurous journey to this beautiful and modern city that will shape memories.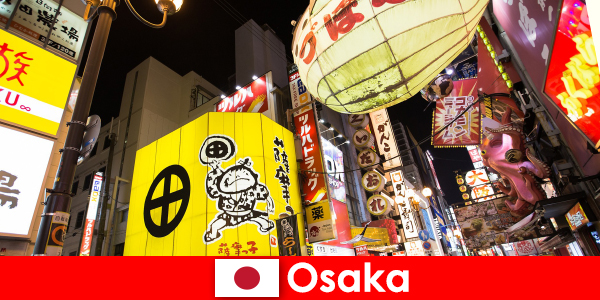 Strangers are always welcome in Osaka
As a tourist you can really enjoy the friendly nature of the Japanese locally. She is educated and is one of the good manners in the entire country. Because the Japanese love friendliness and of course the modern metropolis is no exception. Here everyone is invited to communicate with the residents and is happy to be invited to eat and drink, sometimes even to the Japanese exclusively at home. These impressions cannot be paid for with any money in the world and they simply have to be made. Incidentally, the street food is a stunner locally and simply has to be tasted. If you are then strengthened, you can visit the Hep Five ferris wheel as a secret landmark and recreational fun in order to be able to photograph and experience the city from a completely different perspective. Those who are brave enough are in good hands on the viewing platform of the Umeda Sky Building, and the view is just fantastic. Well fortified, such sights are balm for the art of entertainment. The city's castle, Shinsekai entertainment district and Tsutenkaku Tower are also interesting sights that guarantee a dream experience. The nightlife quarter of course also stands for a high level of entertainment, so that the entertainment presents really extensive differences locally for strangers in order to round off everything comedically, musically and traditionally.
Comedy for strangers – that's Osaka!
Japan is known for a keen sense of humor, and it doesn't stop at this huge city in the west. In the Yamamoto-Nohgakudo Theater this has succeeded in an imaginative, unique and traditional way, to offer comedy for the vacationers as well and not to ignore the ancient wisdom of Japan. Just like incorporating the traditional values ​​of the country. A small and equally funny fun fact is that Yoshimoto Kogyo is a training institute for Japanese comedies and here the entertainment is at a very high level. This clearly shows how this city can be experienced on a completely different level than other metropolises in Asia, because it will definitely be funny here. This is also shown by the local restaurants, where everything from style and Japanese tradition to funny animee heroes can be found that the heart of a flexible traveler desires.
Incredible impressions are experienced, lived and conveyed locally – which you may not find in any other country. This city is unique and offers everything a vacationer could want. Anyone who has never thought about it or was not sure about realizing Japan as a travel destination should definitely do so. Unforgettable moments, wonderful memories, entertaining moments and much more await travelers here, regardless of age. Big and small vacationers are all enthusiastic, and rightly so.