Osaka is nicknamed "tenka no daikokori", which translates as "the nation's cuisine". This city got this nickname because the center of the Japanese was for the rice trade. Today the name fits the city even better. It has a wide range of culinary delicacies to offer for everyone who is a stranger and for the citizens. We have put together a few tips for anyone who is a stranger to Japan and would like to take a culinary tour through Osaka. Locals have loved two types of food and two types of dessert for many years. Here you will learn more about the background of each individual dish, which you should definitely try if you are a stranger in Japan. What is certain is that you will end the culinary tour full.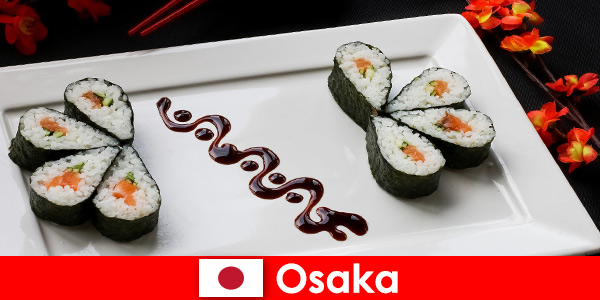 "tenka no daikokori"
Takoyaki – small round ball
This ball of dough with a part of an octopus in the middle is the street food that was created in the 1930s. The takoyaki are made in roasting irons with round indentations. Turning the dough balls requires great skill. You should definitely take a look. These balls are served with a sauce similar to the okonomiyaki sauce and, of your choice, with mayonnaise. There is also the vegetarian version of Takoyaki from more and more providers, these include champions and tofu.
Okonomiyaki – Japanese pizza
Okonomiyaki means "roast what you want" or "Japanese pizza". These are made from plenty of chopped cabbage mixed with flour, egg and dashi and then topped with other ingredients. At the end there is a special sauce and the delicious meal is ready. Okonomiyaki is a specialty here that you should definitely try.
Oshi-Zushi – The oldest type of sushi still eaten
Oshi-Zushi means "Press-Sushi" in German. Sushi rice is pressed into a long wooden mold with marinated fresh and other ingredients. Cut bite-sized pieces before eating and the sushi is ready. Oshi-Zushi or Osakasushi has been replaced by Nigiri-Sushi. It's not easy to find, but it's worth it because it's the oldest sushi variety still eaten.
Kushikatsu – Fast Food in Japanese!
This street food is quick to make and cheap at the same time. Kushikatsu means skewers of meat, vegetables, and seafood that are breaded and then fried. There are different sauces as well as cabbage, this is supposed to be digestive. The majority of Kushikatsu restaurants are as simple as these skewers, often there is only standing room. Usually cold beer is served with it.
Kitsune Udon – Simple noodle soup
Each region of Japan has its own recipe for udon. Here it is the kitsune udon, made from a light algae broth with dashi, with udon noodles and deep-fried tofu bags. The udon was created by a sushi master in the 1890s. He wanted to invent a completely new dish with his tofu bags and it became very popular.
Ikayaki – the Osaka crêpes
Ikayaki are similar to hearty crepes. The thin dough is baked in a frying pan and poured over with squid and spring onions as well as with sweet and spicy sauce and then folded. Ikayaki is said to have been created in the 1950s. It has now become a popular street food. However, most people know it as grilled squid.
When traveling to this wonderful city, you shouldn't miss out on a culinary tour. Definitely worth it!