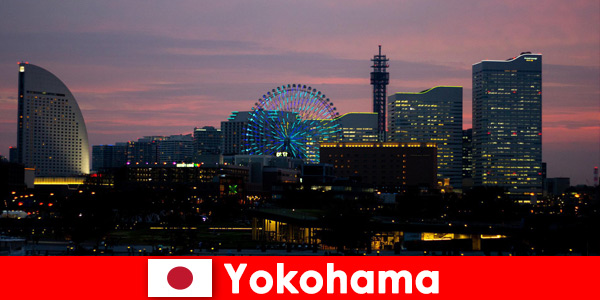 Anyone who undertakes a trip to Yokohama naturally wants to know which places should definitely be visited. The modern complexes, which are state-of-the-art, are not only worth seeing for technology freaks. A stroll through the international districts is also worthwhile for tourists.
Interesting places in the megacity
The modern city also has a wealth of exciting museums so that culture lovers will also get their money's worth. The gigantic shopping centers are a Mecca for shopping fans. A visit to one of the amusement parks guarantees fun and adventure for holidaymakers of all ages. A long-distance trip to Japan is therefore also worthwhile for younger children. A major landmark in the city, where modernism dominates, is the tallest building in Japan. The 300 meter high tower offers people who are not afraid of heights a breathtaking view over the metropolis and the surrounding mountains.
Experience the city from afar
Tourists can also be transported up the mountain on the Ferris wheel. A ride in one of the 60 gondolas of what used to be the world's largest Ferris wheel takes about 15 minutes. The ride offers unique views of Yokohama. The Ferris wheel is in an amusement park that also has ghost trains and other attractions. In a park laid out in 1897 just outside the city center, visitors can expect a tea house and Buddha ambience typical of Japan. Tourists will also find peace and relaxation on a total area of ​​around 17,500 square meters. This park has been open to everyone since the beginning of the 20th century. Japanese traditions abound here as well.