Who does not know her? Once you've fallen in love with the characters with the big eyes, it's hard to get away from them. The dream of every manga fan is to travel to the homeland of their heroes and marvel at the many different attractions that can be found there around the topic.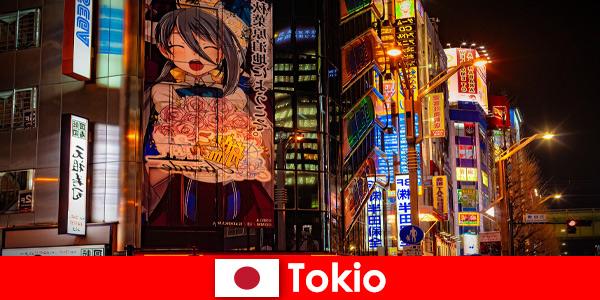 Why go to Tokyo?
In Europe, mangas are mostly dismissed as children's readings, which is by no means correct. In their country of origin, Japan, the comics are read by everyone; there are manga for both adults and children. The largest city in the world is also THE city for lovers of anime and manga. Tokyo with its 37.5 million inhabitants is certainly worth a trip anyway, but if you look at the countless attractions that Tokyo has to offer in connection with manga, there is probably no stopping many. It is not without reason that thousands of young tourists travel to Japan every year, the forms of entertainment are so diverse that even as a non-otaku one will be amazed. Whether museums, manga cafés or manga shops that stretch over several floors, there is something for everyone.
You should have seen that!
And although there is something exciting to see on almost every corner, there are still some things that you should definitely see. Number-one in the list is probably Akihabara, it is THE quarter of anime and manga. In countless shops you can find souvenirs, CDs, DVDs, video games, characters and cosplay products made from your favorite mangas.
Everything the heart beats for Manga
The district is definitely worth a trip and you should definitely plan enough time. You should also pay a visit to Nakano Broadway, in the huge shopping complex you will find countless anime and manga shops that also offer items from older series, and there is also the possibility to buy used things, which makes them a little cheaper. To pass the time on rainy days or simply to relax for a few hours, the Manga cafés are ideal. They are available in a wide variety of designs. Whether you just want to have a drink or something to eat in the afternoon, play video games, watch anime or just want to read manga all day, there is a café for every taste. Some of them are even open 24 hours a day, so you always have the option to choose to visit. If you are really hungry or if you feel like having a snack in between, it is worth stopping by a themed café. A special kind of café, where you are served dishes in the form of your favorite characters, hearty or sugar-sweet, the cutest dishes are served here.
The home of otaku and kawaii
So if you travel to the largest city in the world as an otaku and kawaii lover, there is a lot to discover for you. In addition to the attractions mentioned, you can of course also explore the city on your own, whether for young tourists or for the old hands of the otaku scene, there is something for everyone and you don't need to worry about boredom.