As Japan's gateway to the continents, Fukuoka is a perfect destination for immigrants. As the economic and administrative center of the Kyushu region, the metropolis welcomes immigrants looking for new career opportunities and vibrant urban life. Fukuoka is a very fast growing city. In fact, it is one of the best metropolises in Japan with a good quality of life.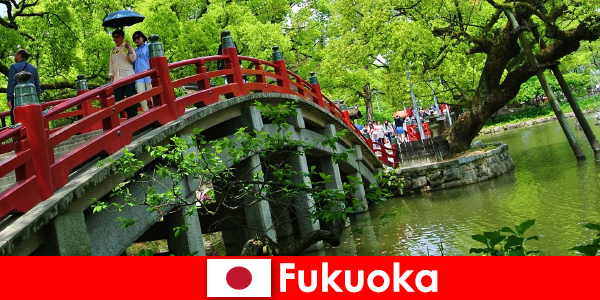 Low cost of living and numerous leisure activities
The low cost of living compared to the rest of Japan makes the city very attractive to expatriates. The metropolis is famous for its food and a high quality of life. There is a wide variety of international restaurants and dishes to suit almost every taste. The culinary must is the well-known Tonkotsu Ramen. There are several famous Tonkotsu ramens like Ichiran and Ippudo. The renowned nightlife district of Nakasu also offers a wide range of restaurants with traditional dishes of all kinds and international cuisine. Opened in 1996, Canal City was the first mall of its kind in Kyushu to combine shopping and leisure activities in one block. The complex overlooks an artificial canal. Elegant cafes, restaurants and several import clothing stores as well as an AMC mega-cinema with 13 theaters are represented here.
Recommended residential areas
Hakata is one of the central and the largest district. There are many office buildings, restaurants, hotels, and shopping malls around Hakata Station. Hakata Bay has links to some of the surrounding islands which are just a short ferry ride away. There are many parks in the city, but one of the most famous is Ohori Park. The area is characterized by beautiful nature. In addition, you benefit from convenient transport options. In summer you can experience great fireworks. In the spring, this district is a popular destination for Hanami. If you live in this area, you can see festivals right on your doorstep. Tojinmachi is one of the other famous places in the area with its special flair. The zoo and the botanical garden offer recreation and relaxation for the whole family. Yahoo Dome is also a popular spot in the area and hosts games year round. Hawks Town Hall offers shopping centers, a movie theater and various entertainment complexes. Nishi Shin is on the outskirts. The area is less urbanized than Tenjin or Hakata and offers a relaxing environment with endless greenery. This residential area benefits from a very quiet neighborhood. Here you can find beautiful parks and areas of historical importance such as temples, shrines and the occasional hot spring. Nishi Shin is the best place for education with libraries and museums nearby. Convenient transportation also allows for easy access to the city center. People in this area usually live near the train station.
Tenjin is a lively area with numerous shopping streets and malls, boutiques and high-rise buildings. Unusual cafes, restaurants and shops for everyday needs are next to each other.
Fukuoka in Japan – good career opportunities and a pleasant atmosphere
Immigrants who want to found a start-up will find perfect conditions in the city. The various residential areas offer an excellent quality of life. Numerous parks and green spaces offer the opportunity to relax after a hard day's work. There is also a beautiful sandy beach on the outskirts. The city also offers some historical attractions like the Sumoyoshi Shrine.