If you want to get to know the peculiarities of Japanese culture, the best way to do this is with a guided group tour. Exploring Fukuoka, Japan's beautiful city with a trained tour guide and among like-minded people in groups is not only fun, but you can also be sure not to miss anything, because this city has a lot to offer. It is always worth a visit. The city not only offers some of the most delicious dishes in Japan, it is also ideally located between the mountains and the sea, so that everyone gets their money's worth here during a regional trip.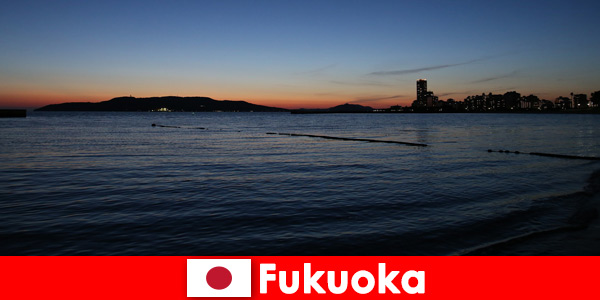 Travel time
The perfect time to see the city is somewhere between June and October, as those are the warmest months of the year. If you prefer moderate temperatures for hiking, for example, you should come between September and October, here the temperatures are between 18 ° C and 27 ° C. For those who like to go swimming or lie on the beach, the period from June to September is recommended. Temperatures can reach up to 32 ° C in summer and are therefore ideal for sunbathing.
Delicacies
Fukuoka is one of the most popular regions in Japan for foodies. If you like pork, you won't be able to avoid the famous Tonkotsu Ramen, which comes from here, on a regional trip. This dish convinces with its special soup alone. It is milky white, opaque and tastes like juicy pork. Motsunabe, a spicy stew made from offal is probably not for everyone, but the Japanese swear by it and those who are really brave should try fugu, the poisonous puffer fish. Restaurants that offer this special delicacy require a special preparation permit. Gourmets can discover and taste all of this and much more here.
Sights
As a modern metropolis, the city cleverly combines new buildings with old shrines and temples. Built in 1989, the Fukuoka Tower rises 234 meters into the sky. At a height of 123 meters, you can enjoy an excellent panoramic view of the city from the viewing platform. If you can't stand it so far up, you can simply stroll through the Ohori Park. It is one of the most famous parks in Japan and has a beautiful 2 kilometer long pond, which is great for souvenir photos. For even more nature, the mountains offer many hiking opportunities, and those who have come to relax extensively have the opportunity to do so on one of the beaches on the coast. The Sumiyoshi Shrine, the Shofuku Temple or the Hakozaki Shrine offer classic sights, they are the cultural heritage of the city and are always worth a visit. Canal City in Hakata is ideal for all group shopping enthusiasts. It is considered a shoppers' paradise and, in addition to the well-known international shops, of course also offers Japanese boutiques, cinemas, a theater and a games center. Fukuoka is a beautiful city that is ideal for an exciting regional trip due to its location and interesting sights.