Take off with the boat, gently rock out into the vastness, gentle waves and the wonderful sunset of the Turkish Mediterranean, marvel at the fantastic starry sky and count shooting stars together, to finally row back to land with all your strength and enjoy an excellent dinner. .. Couples who have recently been in love or who have been in love for a long time get their money's worth here!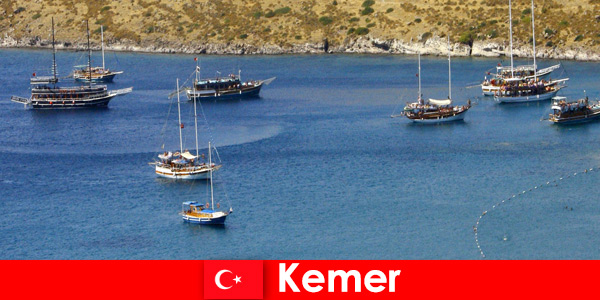 Pure experience on the Turkish Riviera
The popular seaside resort of Kemer is located in the southern Mediterranean and even if the beaches here do not have sand, but predominantly rocky spots and pebbly subsoil, the imposing coastal landscape here impresses with its unique charm, relaxed atmosphere, southern flair, and wonderful holiday feeling on site. In front of the impressive backdrop, you can also arrange wonderful couple and family shootings and then snap many great holiday photos as mementos, which is why the high-quality camera should of course not be missing in the luggage. The beach offers just as many advantages and adventure opportunities for couples with children. Collect stones and shells, hop in the foaming foothills of the waves, build stone castles and many other beautiful adventures await your children here. The varied culinary offer on site makes both big and small gourmet hearts beat faster. Those who have not yet enjoyed an extensive picnic on the boat will certainly be able to satisfy their hunger in one of the restaurants with a sea view.
Excursions in the area for couples and families in love
The ruins of Phisalis are a popular destination for people with a weakness for ancient history and fortunately only a few minutes drive from the port. Here you can marvel at the eternal gas fires with your sweetheart and, depending on your historical background, either book a guided tour or explore the area on your own or together. For a day trip for families, the local national park, which bears the name 'Olympos-Beydaglari' national parks, is particularly suitable. Children love to climb the imposing summit of the so-called 'Tahtali' by cable car and also enjoy the exciting journey back into the valley, which is rewarded with a wonderful view of the Mediterranean. The beauty of Turkey is particularly evident in Kemer.
Loose anchor lines
Back on the boat, couples and families in love can explore the area on the water if they wish. The numerous local experts and guides will be happy to share their multifaceted knowledge about Kemer and Turkey with you if you wish. So don't be afraid to make exciting new contacts and let yourself be carried away a little and not only drift across the water, but also a little through the city or on land, in order to soak up the new impressions on site with all your senses. One thing is certain – you will remember this adventure trip for a long time to come.