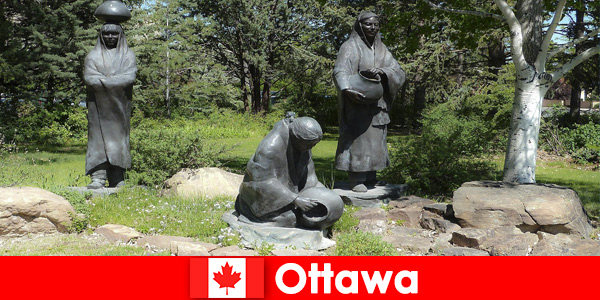 Ottawa inspires travelers with an incomparable mix of culture and nature. A unique vacation is guaranteed in this region of Canada. The following article introduces tourists to the main attractions.
Highlights for culture lovers
In Ottawa, travelers can enjoy year-round festivals and cultural events. Tourists can discover the very best that Canada has to offer visitors at the History Museum, National Gallery and Nature. At the National Museum, travelers will find impressive collections that tell the story of the country and the Canadian capital in the fields of science and technology, food, agriculture, aerospace, military, nature, history and art. Another cultural highlight at this museum are exhibits that allow travelers to immerse themselves in the culture of Canada's First Nations. Farmers, traders and artists sell specialties and goods all year round at the centrally located, lively market. The best restaurants, pubs and numerous cafés invite you to linger and enjoy. In the evening, the market is a popular meeting place for holidaymakers and residents alike, to end an eventful day with alternating live music in the light of the street lamps.
World Heritage Site in the Canadian Capital
Numerous boats can be seen on the canal, which winds its way through the city center, all year round. The historic waterway is part of the world cultural heritage.