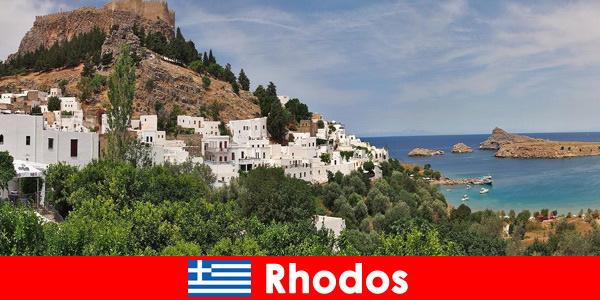 Rhodes is the largest of the Dodecanese islands in Greece. It is known for its ancient ruins and buildings from the time when it was conquered by the Crusaders of the Order of St. John. After the Ottoman conquest and occupation, the palace now houses the historical museum. Here you can fully enjoy Greece with Metaxa and mythology.
Enjoy joie de vivre, adventure and culture
Meet friends in the Mediterranean and miss nothing on your trip to this island. Great experiences lead you through the historic old town. Enjoy the impressive local monasteries and churches. This is the island of the gods, after all. Exquisite Rhodian wines taste good with the Souvlaki – skewers to the sounds of Sirtaki and reveal the Greek cosiness to every tourist. With more than 3,000 hours of sunshine per year, unique sunsets are guaranteed. Wide beaches, small bays, azure waters for perfect beach fun for vacationers visiting this place. The lively, vibrant island capital offers tourists many exciting experiences, e.g. a beautiful, well-preserved old town, which is a UNESCO World Heritage Site, the Mandraki Harbour, the Grand Master's Palace and the Knights' Street. The old town of Rhodes is characterized by the medieval Knights Street and the fortress-like Grand Master's Palace in particular. You can also find an exciting shopping experience in the old town. At the Mandraki harbor there are countless shops, there is something for every taste. Invite your friends to such a shopping trip!