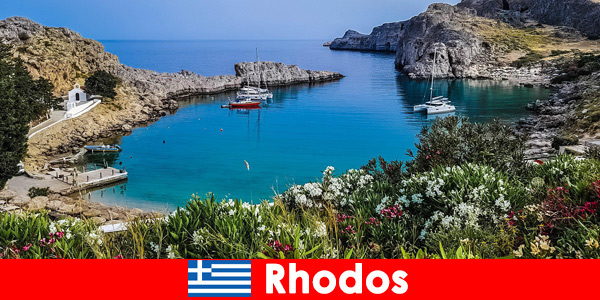 Rhodes attracts over 1.5 million holidaymakers annually and is one of the most popular islands in Greece. The island has an impressive nature and is very varied. Backpackers can also experience miles of sandy beaches and mighty mountains there. Busy coastal towns and original villages are spread all over the island.
The climate on the island
The island is one of the sunniest regions in Europe with over 3000 hours of sunshine a year. Little or no rain can be expected from mid-May to mid-September. A water supply is secured all year round in this area due to the limestone mountains. The island also supplies water to those in the immediate vicinity through ship deliveries. In the months of July and August, temperatures can reach up to 40 degrees Celsius. On the west coast, however, the sea wind cools the temperatures down to around 28 to 32 degrees Celsius. In the area of ​​the east coast, the temperature in summer is 35 to 40 degrees Celsius. The relatively low humidity during this period makes the heat bearable. The coolest time is from January to February. During the day, the temperatures here are between 12 and 18 degrees Celsius. There is practically no frost on the island.