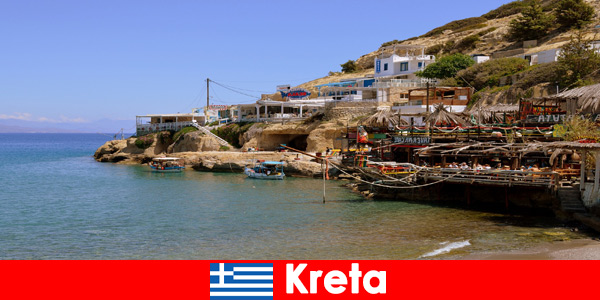 A holiday in Greece, on Crete is not only an experience in terms of beaches, clear water and nature. Greece and Crete in particular have a lot of nature to offer. But as a holidaymaker you should also get to know the typical dishes there. Here you can visit off the beaten track, in the small restaurants. Not only because this is the best place to experience local cuisine, but also because of the people and customs. Here you can then experience typical dishes such as Tsigariasta for the island. This is lamb or goat, which is stewed until the meat itself falls apart. There are also side dishes like vegetables. Another food from the local cuisine is apaki. This comes from only one place on the island, namely from the mountain village of Anogia, and is very elaborately produced. The smoked pork is marinated in wine vinegar for several days. Only then is it smoked in several layers with herbs and spices.
Many small appetizers sweeten the meals during the day
If you prefer to have it light during the warm lunchtime or as a starter, Dakos is the ideal choice. This is rusk made from barley, which is softened with water. Then it is seasoned with salt and pepper, grated tomato is served and topped with cream cheese and olive oil. It is a very simple but delicious meal. Many appetizers can be fed plain.