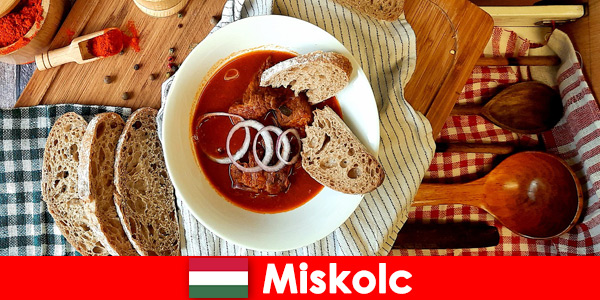 Miskolc, a city in Hungary with around 159,000 inhabitants and the county seat of Borsod-Abaúj-Zemplén County, has a lot to offer tourists, especially in terms of culture and places with delicious food. Guests will feel very much at home in this fairly small town. Because these are small and cosy, like the city in north-eastern Hungary in general, which lies at the foot of the eastern foothills of the Bükk Mountains. The city is considered the center of northern Hungary, is referred to as a mining town and has very good transport connections to the rest of the country.
Sights and culinary delights
The city has a lot of sights to offer, such as stalactite caves and the narrow-gauge railway. In addition, there are thermal springs and a cave bath and the Diósgyor Castle, which was first mentioned in 1271. The castle games take place there every year as part of the cultural program in the summer months. Visitors to the city can also visit the Ottó Herman Museum and the Miskolc-Avas TV Tower on Avas Hill. Also worth seeing is the Gothic Protestant Church on Avas Hill. Tourists will feel right at home in the localities where, in addition to Hungarian specialties, local specialties are also served, such as Sülzen – fine pork in its own aspic. The city even dedicates its own brawn festival to this dish every year, which takes place in March of each year.