Japan has been a popular travel destination for many years because the Land of the Rising Sun has so much to offer. However, every Japanese city is of course to be assessed very differently, as the differences can be enormous in some cases. The city of Fukuoka is often not noticed at all among the travel destinations, even though a trip here to the southernmost part of the Japanese islands would allow a culinary diverse journey that was certainly not expected. It is therefore always advisable to plan trips away from the major Japanese cities in order to avoid the hustle and bustle of tourists and at the same time enjoy the diversity that actually emanates from Japan's magnificent islands.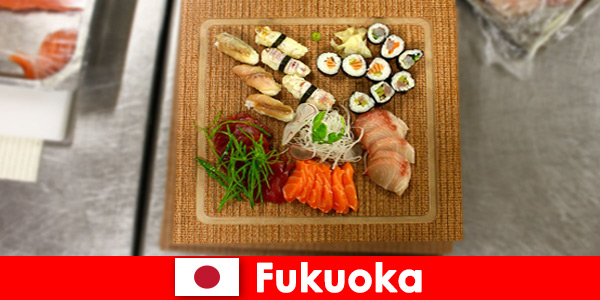 Fukuoka – the palate meets exotic and exciting dishes here
Inevitably, on Japan's islands it cannot be denied that the connection to the sea influences the local cuisine much more than some travelers might initially like. From miso soup to sushi, however, there are also far-reaching differences in Japanese food culture that are truly culinary. On the island in southern Japan, for example, the popular yakitori is a real culinary delight, and word of it is more popular than chicken shish kebab. Of course, the popular Hakata Ramen are also waiting here for tourists who would like to get to know and enjoy Japanese cuisine. Spicy sauces meet exotic side dishes such as algae, tofu and a few spices, so that Japanese cuisine is rightly served here and tour groups certainly do not have to starve.
Japan and its islands – these sights must not be missed!
In the land of the rising sun, the focus is on friendliness and socializing, which also applies to local travelers. That is why the Japanese island is a popular destination to indulge in solidarity and at the same time to be able to savor delicacies in a convivial Japanese group. The local sights are also worth seeing. For example, Maizuru Park is at home here and was established as early as the 17th century. It also shows the town's castle, which is only partially visible, so that you can visit two sights in one.
Culture, beauty, enjoyment and tradition
Culture, beauty, enjoyment and tradition have always merged into one another in Japanese history. No Japanese travel destinations are exceptions, so that a maximum of a bit of modernity comes with it. But it is precisely the more untouched islands, which are not visited so often by tourists, are a prime example of history, culture and culinary masterpieces that tickle the palate. It is precisely these destinations that are all the more important for holidaymakers in order to get to know Japan's unadulterated beauty.