India is at the top of the wish list for many travel enthusiasts. The capital Bangalore is located in the south of India. It is considered the most cosmopolitan city in India. The founding of the capital falls in the 16th century. As a British garrison town, it grew rapidly in importance and is still the cultural and economic center within the region today. The city gained economic fame due to its IT and aerospace industries. The result is a broad, financially well-off middle class within the population.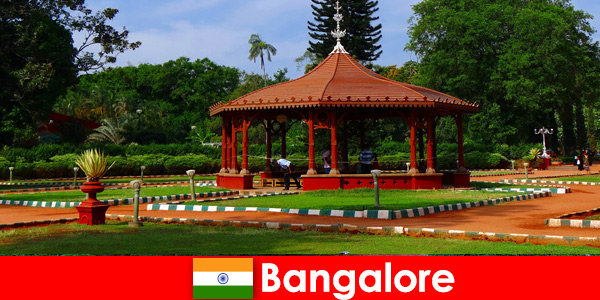 Experience pure nature
Anyone who enjoys being in the great outdoors and wandering through gardens is in good hands in Bangalore. It is not for nothing that the city is nicknamed "Garden City". A comparison with other cities quickly shows that the city not only has many, but also particularly beautiful parks and gardens.
Popular gardens and parks
The largest park in the city is Lal Bagh. The name of the park translates as "Red Garden". The botanical garden is particularly known for its charming glass house and its remarkable rose cultivation. Lal Bagh is home to the largest collections of extremely rare subtropical and tropical plants. Tourists can walk there on avenues lined with ancient trees. These lead past lotus ponds, lakes and a wildlife park. Cubbon Park is located in the center of the city and is an oasis of calm in the middle of the noisy and hectic city in India. It can be reached by metro at the station of the same name. The extensive park awaits with partially natural meadows and trees, beautiful paths and ni-cely laid out flower areas and pavilions. Within the park as well as on the edge of the park there are historical buildings that are beautiful photo opportunities. Fruit and beverage stands offer small refreshments.
Boat tours that delight young and old
In Bangalore, travelers from abroad can not only stroll comfortably through parks and gardens. Boat trips are also possible here. Lumbini Garden is a public park located on the shores of Lake Nagawara. Various boat trips are not only accessible to tourists here. Tourists from abroad as well as locals like to indulge in pleasure boat rides or pedal boat rides here. The largest lake is Madiwala Lake, where boat tours are possible all year round. These tours are particularly interesting because of the many water birds that can be observed here. With pedal boats, which are available for two to four people, it is possible to get close to kingfishers, pelicans, herons and many other water birds.