Kemer is a city in southern Turkey on the shores of the eastern Mediterranean between islands. It is a popular bathing and recreation spot. But not only for bathers and vacationers this place offers interesting locations, but also for hobby archaeologists and antiquity lovers there are interesting and old ruins, the former city "Olympos" (or written out "Olimpos"), which reminds of the Greeks and Seleucids respectively even the Olympic Games or Mount Olympus. So the place is great for a study trip.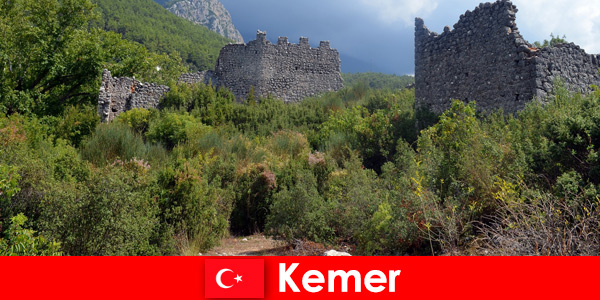 The history of the ruins
The city was founded over 2000 years ago. It has had an eventful history, between membership in the Lycian League, the Romans, pirates, Genoese and other crusaders or even as the seat of a bishop. The crusaders built a fortress on top of the city. Since 1200 the city has been gradually abandoned and has been forgotten more and more under rubble and rubble after the Byzantines withdrew further to the west and Turkish nomads came after, who settled there in winter with individual huts. In any case, it is a place that was dedicated to the Greek gods and a visitor here will surely receive the divine aura afterwards, with a little imagination when imagining the city and how the "ruins" used to look. For orientation there is a board and other signs with information about the history of the city in different languages. The city is located about 40 kilometers from Kemer, where the visitor can reach the ruined city via the beach. In ancient times, the city was located on a river in order to establish trade relations through shipping. There is nothing left of the port facilities, but through the many streets, old ruins and houses, a certain part of city life can still be imagined as an imaginative explorer.
On the trail of the past
What remains are smaller domes of an ancient bathhouse, which in a broader sense is reminiscent of the Roman-Byzantine culture. There are also remains of a theater and temple, as well as other grave monuments. The remains of the wall may still be a reminder of the size and splendor of the city. The city is surrounded by thorn bushes and other shrubs such as laurel trees, so sturdy footwear is recommended when walking through. The laurels in particular are reminiscent of ancient wreaths at the Olympic Games and the divine splendor that emanated from the city of "Olympos" or even emanates when explorers go on a study trip to Turkey.