Germany has over 100 nature parks to offer. Places where you can take a nature trip to hike, relax or find yourself in the middle of mountains, forests and castles. There are three special parks in the immediate vicinity of Cologne. Mountain and lake landscapes so close to the big city invite you to linger.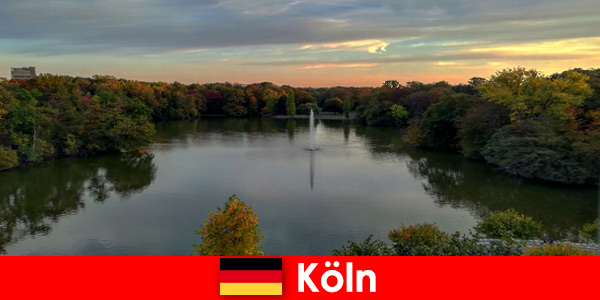 The special nature parks
Rhineland Nature Park
The local recreation area was founded in 1959 from the merger of the Kottenforst and the Rheinbacher Wald. The area of ​​the nature park is 1,045 km² and is criss-crossed by beautiful hiking trails. It is one of the largest nature reserves. The area can be explored in a variety of ways with various tours. The lake tour, which leads to all of the larger bodies of water (Liblarer See, Bleibtreu See and Heider Bergsee) in the area, as well as the moated castle tour, which touches a few famous castles on the Erft, should be particularly beautiful. Special highlights are the Iron Man, a legendary pole that stands in the forest near Dünstekoven, and the magnificent imperial oak.
Bergisches Land Nature Park
This park is approx. 2,027 km² and the landscape is more of a low mountain range. A varied landscape with hills and valleys, but also a lot of water: 16 reservoirs alone and many rivers, Agger and Wupper, Wiehl and Dhünn and many small streams where you can take a break while hiking. Mixed forests and blooming heathlands invite you to go hiking, cycling and discovering. The Bergisches Land also has a lot to offer for those interested in culture. Time and again, small churches can be found in the middle of nature. A special highlight is the Altenberg Cathedral, a monastery from the Middle Ages that can still be visited today.
Siebengebirge Nature Park
This nature park was founded in 1958 as the first park in North Rhine Westphalia and covers 11,200 hectares. Four cities and numerous mountains are located in this area, so that there is enough variety. The views of the Rhine, which can be enjoyed on many hiking trails through the park, are particularly magical. Many visitors experience this park with its massive mountains and enchanted castle ruins. Meadows and fairytale floodplains, known as the "8th wonder of the world". Whether you are interested in bird species or enjoy taking action-packed bike tours, the Siebengebirge has something to offer for every taste.
The nature reserves around Cologne are unique in Germany with their diversity and invite you to wonderful nature trips.