This lively Californian city is a place of longing for many people and rightly so. Particularly popular is the harbor district called Fisherman's Wharf, with its restaurants and the pier for the ferry to another famous landmark of the sunny city: the prison island of Alcatraz. But San Francisco has so much more to offer.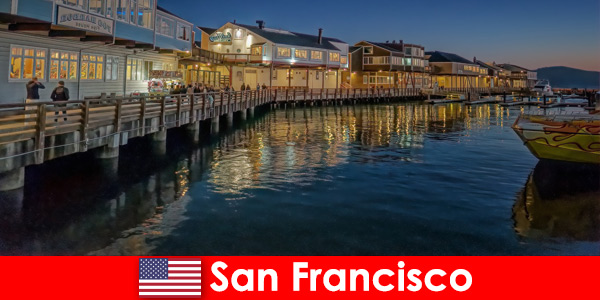 Buildings
When you think of San Fran, as the city is called by the locals, a red-orange bridge that rises above the water and fog comes to mind: the Golden Gate Bridge. The best view of the bridge is from the Battery Spencer lookout point. But you should check the weather report beforehand so that the bridge is not completely submerged in fog. The Coit Tower was built in 1933 only to enhance the city's skyline. You can still visit it today and enjoy the view over the city. From the painted ladies, old colorful Victorian wooden houses, to the cable cars, the tram-like vehicles that have been driving the steep streets for over 100 years, there is also something in San Francisco for vacationers interested in history.
Alcatraz Prison Island
If you also like to get a bit scared, you should take a look at the prison island of Alcatraz. In the mid-20th century, it housed the most dangerous criminals in the United States, including the notorious Mafia boss. Now and then people report ghosts in the empty cells. The City by the Bay, as San Francisco is also known, is full of beautiful architecture, places steeped in history and places to relax. Also particularly beautiful is the Golden Gate Park, which is one of the largest inner-city parks in the world and is home to several museums, a tea garden and the city's botanical garden.
Quarter
San Fran is famous for its exciting and diverse neighborhoods. Be it the colorful China Town with its old Chinese gate, numerous restaurants and exotic shops, or the old hippy district Haight Ashbury, where you can browse through many new age shops. Or another area famous among holidaymakers, the Castro, a district that celebrates the rights of homosexual and queer people. There you can even visit a GLTB museum or simply sit in one of the cozy cafes. A secret favorite is Fisherman's Wharfe, the city's harbor district. The maritime atmosphere of the quarter invites you to stroll or you can simply watch the sea lions sunbathe on the landing stages of the bay.
Conclusion
San Francisco is one of the most interesting and diverse cities in the United States and is definitely worth a visit and is still considered a secret favorite among vacationers. However, the city definitely has the potential to give you unforgettable moments.