Many people who travel here want to take as much culture as possible from the capital in Vietnam. Food is a great cultural asset. The South Vietnamese city is big and colorful, as are its tasty dishes. In addition to the newest high-rise buildings, the old buildings still stand, which gives the city a charming appearance. There are innumerable restaurants. From one to five stars, everything is represented. The restaurants offer as wide a variety of dishes as there are cookshops in Ho Chi Minh City. In the restaurants there are often several next to each other, where you can have your food freshly prepared and watch. There you pay a lot more for the food.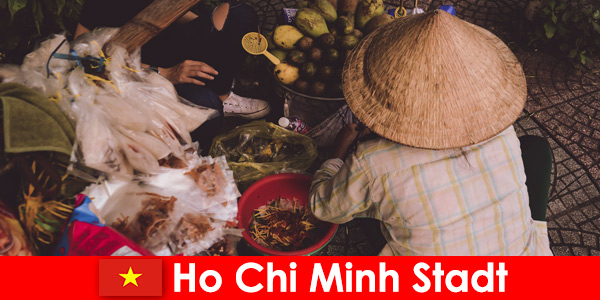 The variety of cookshops and dishes
The frag-rant streets
If you leave the city center and go into the alleys and side streets, you get to know their true culture. Foreigners are hospitable, helpful and courteous to the locals. And it smells of various spices and ingredients, which makes your mouth water. Because here the food stalls line the roadside in many small groups. At every stand that is reminiscent of a marketplace stand, you get a different delicacy prepared. The alleys are filled with these colorful kitchens, happy voices, clattering pots and hissing pans. The ingredients are colorful, fresh, for meat lovers and vegetarians. If you don't feel like something savory, you just walk a few meters and enjoy the delicious pancakes or the freshly squeezed sugar cane juice.
Pho Bo – the Vietnamese national dish
In Vietnam people eat and love soups. One of them is Pho Bo and every foreigner should have tried this cultural heritage. You can find this famous beef noodle soup in almost every kitchen. It is also eaten for breakfast in the country. The basis is a beef broth with rice noodles and meat of your choice. Either thinly sliced ​​beef or as meatballs. Then you refine the soup according to your taste. You can choose from various fresh herbs, chillies, soy bean sprouts, limes, fish or soy sauce. Even a simple beef soup offers many possible taste variations. Com-tam is a classic Vietnamese lunch. Com-Tam kitchens are usually only open at lunchtime and thus supply the working community. This dish made of broken rice with pork, raw vegetables and a fried egg costs the equivalent of just 0.85 euros. In addition, a soup and an iced tea are served.
And what else?
Of course, not only dishes with pasta and rice are offered. Crispy dumplings, grilled prawns and other seafood, bulging bread pockets with crunchy vegetables and meat, pancakes in savory or sweet, freshly squeezed juices, ice cream and a huge variety of fruits leave nothing to be desired. French fries made from potatoes are not found in Vietnamese cookshops. If you can't do without French fries, you can opt for the deliciously sweet and spicy sweet potato fries. As a European foreigner, you are hardly used to eating with chopsticks. In the small kitchens of Ho Chi Minh City you are forced to learn it unless you happen to have a set of cutlery with you.