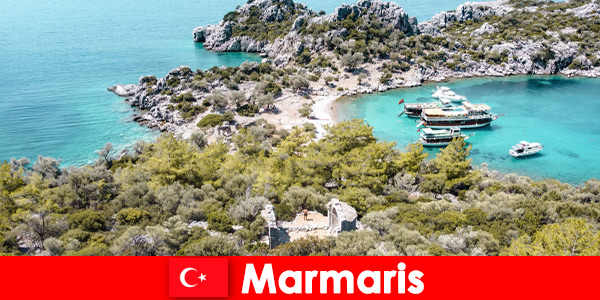 Those who want to experience the blue voyage, sun, beach and more can count as vacationers on Marmaris in Türkiye. It is the perfect place for a relaxed holiday. In the southwest of Türkiye, there is no shortage of rest and relaxation. The exciting and comfortable holiday is accompanied by a rich nightlife. There are many great ways to pass the time. The city is the entertainment city in the country and there are many discos and clubs. Outdoor activities are also popular. The natural bay of Marmaris in Türkiye is popular. Two seas, the Mediterranean and the Aegean, flow together here. If you are looking for sun, beach and the blue voyage, you can also sail here as a holidaymaker and windsurfing is also popular. There is a big show at the end of April with the International Maritime Yachting Festival.
Also as a family holiday with children
The area is also perfect for family holidays. The hotels are good for the budget, the service is comprehensive and the shores are beautiful. The pleasant climate is perfect for swimming and children also feel at home here. The humidity is a little lower here, making the climate perfect for swimming and great tours. Great sandy beaches are perfect for rest. Turtle Beach is also worth seeing and easily accessible. There are great thermal springs, sulfur springs and something is also done for the health.