Osaka is the third largest city in Japan. The prefecture capital is the country's traditional trading center and is now one of the most important industrial centers. In addition, the so-called kitchen of Japan has one of the most important ports in the country. Because of this very port, food used to come into the city from all over the world. Therefore the port city was and is known for the diverse food. The colorful metropolis offers restaurants from all corners of the world. The largest range of food can be found in the Kita Shinchi region, which is located south of the train station. But street food culture is also flourishing in all sorts of small side streets.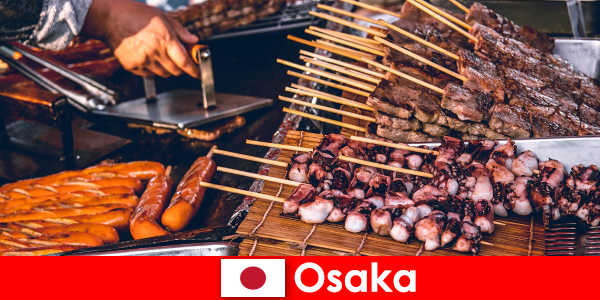 A culinary holiday experience
For example, you can get the famous local street food "Takoyaki" here. Salty apple slices with cabbage, squid and a tasty sauce. For meat lovers there is "Kushi Katsu" – a deep-fried meat skewer that is also available in vegetarian variations or with fish. In the streets of the metropolis life literally vibrates, the colorful cuisine of Japan offers all kinds of choices. There are new delicacies to discover at every corner. A real heaven for foodies and a real holiday adventure by the way! When visiting a counter kitchen, you can have a wonderful chat while the chef prepares an individual menu directly visible across the street. A real experience of traditional cooking technology and good entertainment. Enjoy the famous sushi, which is traditionally pressed in a special wooden box. Rice garnished with fish, shrimp, mushrooms or eggplant. Osaka served pure in bite-sized bites. Have you ever enjoyed sushi on the assembly line? Kaiten Sushi makes it possible.
Specialties as far as the eye can see
The city can no longer be imagined without the specialty butaman, a dumpling pocket filled with juicy pork. Okonomiyaki shouldn't be left out on a visit either. The dish, popular throughout Japan, made from dough and cabbage, with various side dishes and sauce, is rounded off with bonito flakes. For a special thrill, you can also try tecchiri, a Japanese stew made with puffer fish. The fishing port of Nakanoshima just outside the city offers a special experience for fish lovers. The market right on the water offers fresh fish and seafood every day. Since the market opened, street food has been enjoying increasing popularity there. Fresh sashimi and sushi made right at the source by expert local chefs. Dotonbori District is a great place to go for street food restaurants. The district is rather small in terms of area, but offers the highest density of restaurants. Around 5 p.m., all kinds of specialties are on offer in the neon-colored district. Whether ramen noodles Gyoza or Kitsune Udon, there is a suitable dish for every taste. There is even a Japanese word for infatuation with food kuidaore. That literally means "eat until you get into financial ruin", but it means rather "eat until you drop".
Nightlife
After feasting, there is still the colorful nightlife to marvel at. There has been a thriving craft beer scene since 2012. Most of the beers on offer come from small Japanese breweries. The multi-award-winning Minoh Beer and the local specialty Dotonbori beer are particularly popular and well-known. However, the variety of craft beer varieties is almost limitless and leaves nothing to be desired. Whiskey lovers are also catered for. The Suntory Yamazaki distillery is a traditional company that has been distilling whiskey in Japan since 1923. Osaka is the birthplace of the world-famous and sought-after Yamazaki whiskey. This is available in numerous bars and restaurants and rounds off many a holiday adventure.