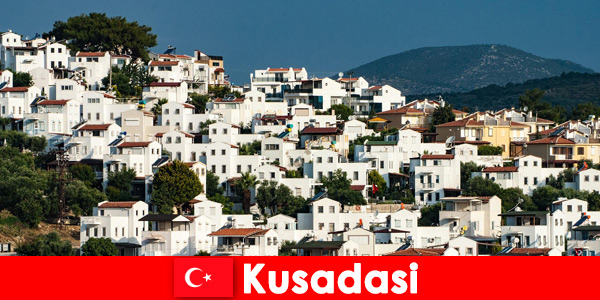 The city of Kusadasi is a dream destination for foreigners, including beach goers, boaters and water sports enthusiasts! This vibrant seaside resort in Türkiye has a cosmopolitan culture and offers a few but highly-visited historical hotspots that showcase the city's past. Excellent Turkish food, the Aegean sun on the beach and the colourful, multicultural nightlife and top hotels make Kusadasi a real attraction.
Sights and Attractions
The castle on Pigeon Island, which dates back to Byzantine times, can be reached via a causeway. There you can admire a small museum and enjoy extraordinary flora and fauna. Another attraction is the house of Mother Mary. The mother of Jesus is said to have lived in this historical place and is therefore a popular place of pilgrimage. you can also admire the beautiful houses. A perfect spot for a spontaneous cool down is the Cave of Zeus, a water-filled cave surrounded by olive trees. For beach holidaymakers, the wonderful sandy beaches are a welcome place to really enjoy life. Kustur Beach, City Beach, Long Beach and Ladies Beach make the choice extremely difficult. 20 kilometers north of the city, the ruins of Ephesus, a UNESCO World Heritage Site, offer a breathtaking glimpse into antiquity.