Japan's capital Tokyo has a lot to offer holidaymakers and every year visitors flock to the most famous districts of the Asian metropolis. How about a dream trip to another world? Immerse yourself in the culture, experience the Japanese lifestyle and let yourself be enchanted by the picturesque city districts. Here you will find out which districts are worth seeing, what there is to see and where you can get to know Japan from its traditional side.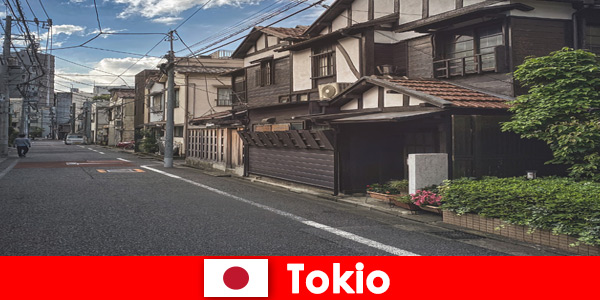 Why is Japan's capital worth visiting?
Do you think you can't make a dream trip a reality in a city of over a million people? Then you have not yet visited the Japanese capital, Tokyo. In the metropolis of millions you can experience a lot, get further education and encounter a different culture. The capital offers numerous green oases, resting places and parks, which invite you to relax, walk and linger. By the way, tradition and modernity meet there, which you can feel in many corners. Marvel at ancient temples, historic gardens and lively city districts where commuters, traders and workers cavort. You won't be bored in the capital, as there is plenty of entertainment in numerous parts of the city. Japan and especially the metropolis is worth a trip because everyone in the travel group or family gets their money's worth.
Which districts are worth seeing in the metropolis?
There are so-called insider tips and particularly popular districts that exude their own charm among visitors and tourists. No matter whether you want to shop, catch cultural insights or if you want to get to know the history of Tokyo, Tokyo's capital will inspire you.
Well-known districts for shopping, enjoying and celebrating
Do you want to find out about the latest trends and take a look around the busy neighborhood? In Akabane and Ikatashi you will find numerous shops, bars, restaurants and pubs and you can easily get to other parts of the city from the train station. Experience lifestyle in Japan day and night, in Akasaka and Roppongi is possible. Back then, these districts were known for their many discos and clubs. Since a shopping mile and the well-known skyscraper Roppongi Hills Mori Tower have been added, the districts have developed into hotspots for nightlife. Turn day into night, shop, go out and experience Tokio by night. For those who want to experience more, the downtown district of Ginza is just the thing. In Ginza you will find traditional, old shops as well as new, modern shopping streets. Take a look around the many department stores and luxury stores and take home a very special souvenir. There are even more shopping experiences in Shibuya, Harajuku or in the Ebisu district. Visit the classic noodle restaurants, go out, celebrate life and enjoy your vacation in Japan's metropolis. Here you can, for example, visit a beer museum and buy exclusive gifts.
Recreation, wellness and nature in the districts of Tokyo
Let your mind wander, relax and let the children play extensively. The Showa Kinen-Park is designed to be extremely family-friendly and there are many extras and highlights to experience for young visitors. Furthermore, in Bunkyo-ku there is the Rikugien garden for garden and plant lovers. Get to know the Rikugien Garden from the 16th century. This park convinces with man-made ponds and hills and offers numerous vantage points for a perfect all-round view.