Welcome to a city that has always been changing, while always preserving its character and beauty. The second largest city in Spain, also known as the Catalan capital, sits right on the beautiful Mediterranean Sea. The metropolis offers the perfect opportunity to discover the city and relax on the beach.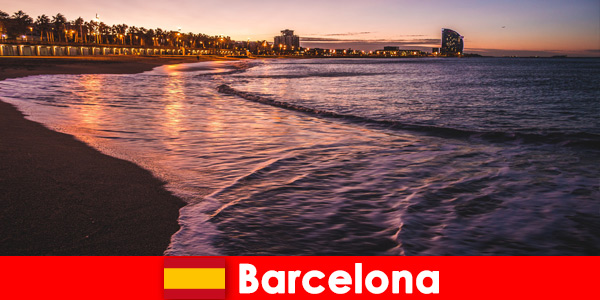 What makes Barcelona special?
Certainly it is the great wealth of art, culture and, above all, architecture that makes Barcelona the most visited city in Spain. In the narrow, winding streets of the old town, wonderful tapas dishes can be enjoyed in the countless small restaurants, bars and cafés in a historical setting. Barcelona's most famous promenade, the Rambla, makes shopping hearts beat faster. On the four-kilometre-long sandy beach, divided into several sections, you can relax wonderfully after a long sightseeing and shopping tour. And all night owls dive into the varied and intoxicating nightlife in the countless bars and clubs.
But what motivates thousands of pilgrims to make a pilgrimage to the famous metropolis every year?
The most famous historical building, recognized by UNESCO as a World Heritage Site, is the famous and magnificent Church of the Holy Família. The landmark of the city. Not to be missed. The unfinished cathedral was once planned by Gaudi and was never actually completed. After more than 200 years, the monumental church is still being built. Visiting the mountain monastery of Montserrat is another highlight for all pilgrims on their pilgrimage. It is the second most visited pilgrimage site in Spain. Although the monastery is a little outside of the beautiful city, the building is visible from the city. The architecture of the monastery inspires with various stylistic elements from different eras and captivates with an unforgettable view over the beautiful city and beyond. Of course, the Black Madonna is well known to pilgrims from all over the world. Today's patron saint of the Catalans dates back to the 12th century.
In the footsteps of past art
And there is a lot more that speaks for this extraordinarily beautiful city. We walk in the footsteps of the artist Gaudi. The works of this famous man, revered by the locals, can be found almost anywhere in the city. In the park with the "Salamanders and Mosaics" for example. In the famous fairytale park of the Spanish master builder you can admire, among other things, the salamander decorated with colorful broken ceramics. The skills of other Spanish artists can be admired in the numerous museums in the Gothic Quarter. The oldest district of Barcelona should not be missing on any pilgrimage. Everyone should definitely take enough time to admire other buildings steeped in history while strolling through the narrow, venerable streets. Barcelona's local mountain, the Montjuic, conveys a feeling of freedom with the gigantic view of the beautiful city. And not only pilgrims realize up here that Barcelona is a vibrant city. Full of life! With Mediterranean flair! A city that enchants from the start!