Turkey's tranquil coastline is home to one of Turkey's most popular travel destinations, Alanya. It is not called the Turkish Riviera without reason, where the sea is right outside the front door, just waiting to relax on the beach and cool off in the water. But the city in the south of the country directly on the coast also impresses with its diverse sights, some of which have been at home here for centuries. However, this Turkish city is known for being a true natural adventure, as evidenced by the raft rides and tours to the waterfalls, so there's no skimping on the adventurous variety either. The most popular destination of the Turkish coastal cities is thus clearly recognizable due to its diverse facets, so that travelers are cordially invited to experience a few exciting days here.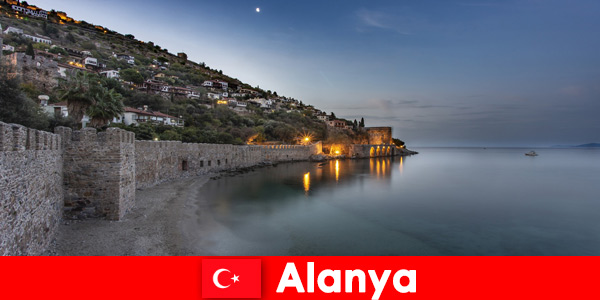 Alanya's caves and natural highlights are a real highlight for adventurers
The partly untouched nature on site attracts travelers from all over the world, as can be proven with the Damlatas Caves. The scenic backdrop of the local caves is emblematic of Turkey's southern coast, which is also home to Alanya Castle. A red tower draws the attention of the huge castle, historically of the greatest importance to the city of a long-forgotten era. The historic Dim Cave is also waiting for new travelers who are looking for pure adventure and want to get an impression of the naturalness of Alanya. Because not only the sea is waiting here on the doorstep, but also the famous tower of the Kizilkule, which is surrounded by the sea. Pure nature in harmony with history, combined with modernity, are waiting here for holidaymakers to devote themselves to an unforgettable adventure.
Turkey's most popular destination is found with this Alanya
The local archaeological museum attracts archaeologists from all over the world, but tourists are also interested in the historically valuable excavations. While the kids would probably prefer to relax in the local Aqua Park. Even the museum of the country's former founder is at home here in the coastal town, so of course this must not be forgotten as a tourist destination. After all, the locals are very proud of this and holidaymakers have to stop by! Of course, the Funfair amusement park also makes a very genuine and everyday impression on tourists, which is another reason why the coastal town should be visited. Not only Alanya's beautiful coast attracts the tourists magically, but also the natural sights paired with historical focal points! It all adds up to a whole new side to the Turkish city on the south coast, and if you get hungry, you're guaranteed to love the local authentic Turkish cuisine. From adventure to fun, the seaside city lacks the direct Connection to the sea is not guaranteed, which will always provide entertainment for large and small travelers.