The Nice Carnival parade is one of the biggest in winter on the Côte d'Azur and one of the most famous in the world! Colorful parades parade through Nice, over 1000 musicians and dancers from all over the world show off their skills. In front of the unique backdrop on the Boulevard des Anglais, the carnival revelers in their extravagant costumes throw mimosas, gerberas, lilies and other flowers from the elaborately decorated float into the audience. A spectacle that is very suitable for families with children. A trip to the carnival parade is also worthwhile for your family. There are still many historical treasures to be discovered in France.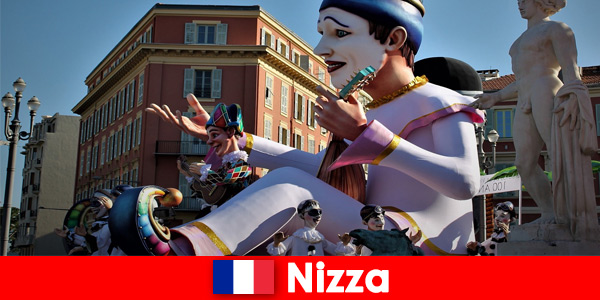 History of this event
Mardi Gras-style masks and carnivals have a long tradition here, dating back to the Middle Ages when these celebrations allowed oppressed peasants to satirize aristocrats and their way of life. Masks and disguises protected against possible decapitation. The modern carnival began in the city in 1873 and, with brief interruptions for more brutal wars, has continued to this day. Unlike other carnivals in Europe, there is no expectation that the carnival performers should wear costumes and masks. Far from a gray sky and full of excitement, the city on the Cote d'Azur is full of color and full of excitement during the carnival. That alone is worth a trip here for your family.
King and Queen of Carnival must be
The carnival king leads his parade through the streets of the city, with exactly twenty floats taking up the theme of the year. The king is accompanied by over fifty giant-headed puppets, called the Grosses Têtes. Centuries-old techniques are used to make these papier-mâché figures, and specialized craftsmen take care of the painting. Costumes dress suit every character, the more vivid they are, the better. The puppet can weigh more than two tons and be 12 meters high. She will definitely tower over viewers. Every king must also have a queen at his side. She is specially selected for this honor from the bevy of local beauties. The Queen has responsibilities! From posing for carnival photos to throwing flowers from the float at the flower parade. She must also keep her beautiful smile throughout the day and show it consistently until the night's celebrations. You should definitely visit the carnival on the Cote dAzur in France with your loved ones. It's definitely worth it!