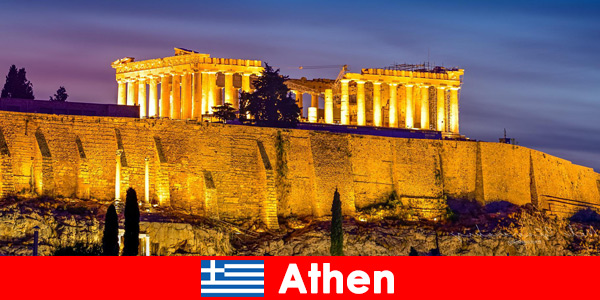 Travel tips for holidays in Athens Greece is not only attractive for tourists who are interested in history. Above all, it is Greece's capital and an excellent place to stroll around. Despite the crisis, the Athenians are very creative. Discovering the sights and culture is definitely worthwhile for tourists! If you are vacationing here and visiting the Greek capital, we will show you the most beautiful places in Athens with its hotels, taverns, cafes and restaurants in our travel tips.
Places visitors like to visit
The best souvlaki has been on sale in central Agia Irini Square since 1946. Kostas serves meat skewers in bread in ten different ways. A cheap tasty snack. Enjoy the Acropolis at sunset. The special spectacle is worth seeing simply because it is no longer so hot in the evenings. Visit the Museum of Folk Music Instruments. A lovingly furnished museum that presents the ancient Greek folk instruments. Between enthusiastic music students you can meet Greek music greats who play the old instruments and tell great stories. The Acropolis, a spectacular building that opened in 2009, shows behind glass facades original statues and frieze parts from the Acropolis temple complex. There are only copies in the Parthenon Hall. The return of the frieze has been disputed for decades. Under an artificial glass floor you can see the remains of an archaeological excavation. Various beaches are literally lined up south of Athens. A coastal tram connects them and carries tourists to Greece along the coast.