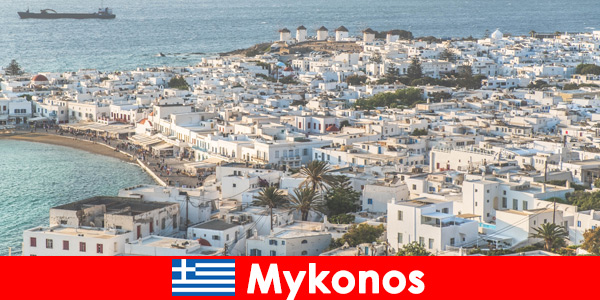 Mykonos is unlike any other island in the Cyclades archipelago of Greece. It's fun, colorful and truly cosmopolitan. It is also a showcase of the Cyclades. White houses with colored doors and window frames are tips for excursions, as well as windows and balconies decorated with flowers, fantastically clear water and windmills. The port of Mykonos is particularly impressive, where traditional fishing boats and expensive luxury yachts are anchored side by side. The island is also the summer destination of the international jet set in Greece, which is reflected in the prices on the island. During the day, tourists can usually be found on the beautiful beaches or walking through the streets of the old town. In the evenings, especially young guests in the bars, clubs and discotheques turn night into day and party until morning.
The island mainly attracts partygoers and beachgoers
As a rule, Super Paradise Beach is very crowded. The parties start early in the morning. On the other hand, Paradise Beach is quieter and has fewer visitors. In addition to the restaurants and bars, there is also a large campsite. The city is most famous for its gay festival at the end of August, which every year attracts thousands of people from all over the world to celebrate for a few days. The island also offers activities such as water sports, sailing and windsurfing, as well as horseback riding and diving courses. The island is also a gambling paradise and many hotels have casinos.