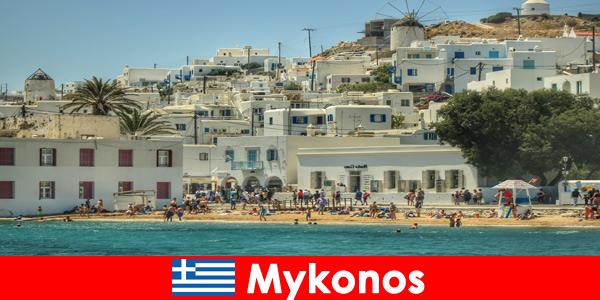 The Greek island of Mykonos, also known as the White City, is a dream destination for foreigners who want to vacation in Greece with its long sandy beaches, beautiful sunsets and stunning white houses. The small island became the real hype, partly due to the great pictures that were regularly posted on social media.
Mykonos – a dream for many vacationers from all over the world
The old town of Chora, the white city par excellence, is particularly inviting with its beautiful white houses and colorful stairs and doors. In this city, drifting is encouraged extensively. Strolling through the streets, past great-looking cafes and restaurants invite you to linger and feast. Wonderful little boutiques are lined up and tempt you to go shopping. The famous windmills of the island in Greece are not only a real highlight, but also an incredibly popular motif for photos. This can be found north of the island on a small hill near the port. A perfect place to take in the beauty of the island and unwind from everyday stress. The sunsets at this point are amazing and must be seen. As is well known, there are many great beaches on Mykonos, the two most beautiful and well-known are Paradise Beach and Super Paradise Beach, where legendary parties with DJs from all over the world are celebrated in summer. These beaches are a dream destination not only for foreigners but also for locals.