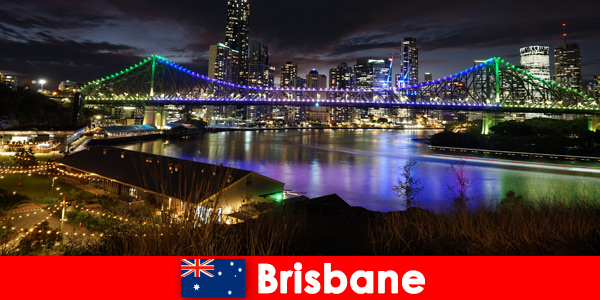 Experience and see Brisbane from the water? Then there is a river trip. With a six-hour pub cruise and multiple stops, there's not only a lot to see here, but also to experience a few pubs along the waterfront. There are of course many other boat tours, such as the one to Moreton Bay. In addition to islands such as Stradbroke Island in front of the town, snorkelling and marine life can also be seen and experienced here. If you want to see sharks and co, a visit to Seaworld is also a good idea. And if you want to see the national animal of Australia up close, then the koala reserve Lone Pine Koala Sanctuary is the place to be. Of course there are also many other leisure activities, such as crank indoor climbing.
Brisbane in the evening hours and at night
It became clear what leisure activities and adventure experiences can be experienced as a traveler during the day. But young travelers also want to experience something in the evening hours. And this is where the Downunder Bar or The Zoo come in handy. The Zoo is a club that offers everything in music from hip-hop, jazz and rock. Here you can not only listen well, but also dance properly until the early hours of the morning. Of course there are other clubs too, like the Beat Mega Club and the GPO Hotel. If you prefer to experience the city at night, then another insider tip: namely a Segway adventure tour.