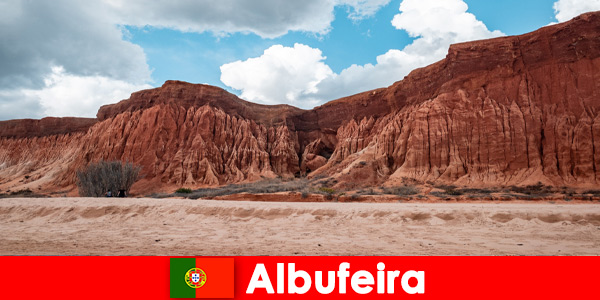 Albufeira is a coastal town in the Algarve region of southern Portugal. The former fishing village has become a popular holiday destination that scores with sandy beaches and an attractive nightlife area. Fishermen also take advantage of the chic marina, which also offers activities such as diving trips, dolphin watching tours and family boat trips. Around the port of Albufeira are the candy-colored apartment houses, in the foreground of these houses is a river bank. Holidays in this coastal town are especially interesting for families with children and dogs.
City and history of Albufeira
Albufeira looks back on 2000 years of history. The Romans called the place Baltum or Balteus. The Arabic name is al-buhaira 'German the sea'. The city, built on rocks, was long considered impregnable due to its location. The Moors living there were only conquered in 1249 by Afonso III. expelled. The earthquake in the capital then almost completely destroyed the city in 1755. A tsunami followed, flooding the lower city. In 1823, during bloody clashes, the city was encircled by Miguelista guerrillas and then set on fire. Little remains of the ancient city. At the highest point (Rua da Bateria) are the old town hall, a hospital and the bell tower. The former small town was promoted to a city in 1986. Holidays with the family with many sporting activities are an experience in the coastal town of Portugal.