When traveling to Sydney Australia you should carefully consider which of the highlights and sights everyone wants to see. In such a big city you can lose track of things. Spend several beautiful days in this metropolis. Surf tourists in particular can get the ultimate kick in the wonderful city. There are sights in this wonderful city that no one should be without.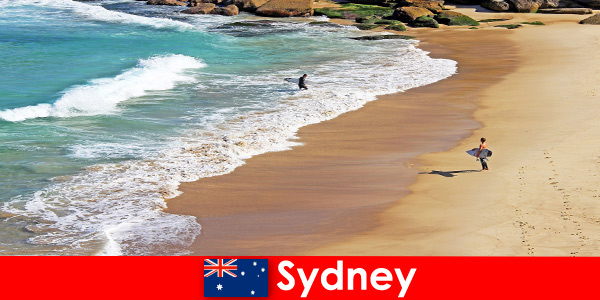 The Bondi Beach
Crystal blue sea and golden sand, that's Bondi Beach in the metropolis. It is simply the dream of all surf tourists. The fantastic weather that prevails in the city makes the approximately one kilometer long sandy beach an attraction. No other beach in Australia is as popular among locals and tourists as Bondi Beach. Everyone gets their money's worth. So you can just sunbathe on the beach and bathe in water up to 25 degrees. You can learn to surf at Bondi Beach. After all, the beach in Australia is one of the best spots for surfing. Surf tourists get the ultimate kick here.
Bondi Icebergs
For surf tourists on Bondi Beach, it is the most spectacular restaurant in town. The Bondi Icebergs is the club building of the swimming club of the same name. Numerous Australian specialties are served there. You can also indulge in the Café des Bondi Icebergs and enjoy the wonderful view when you take a break from surfing. If that's still not enough, you can visit the club's spa or fitness studio afterwards. Yoga courses are also offered. What is it that makes this place so special? The pool is it! It is located directly at the restaurant. It's a large seawater pool that juts out into the city's bay. You can go into the cooling water at the hot temperatures that prevail there and wait for the waves of the ocean to reach you. The Bondi Icebergs is not only an attraction because of its delicious food.
The Sydney Opera House
Most visitors to this metropolis think of the opera first. Surf tourists also like to visit its sights in this city in Australia and usually cannot pass the Opera House. The unique architecture of the building, which opened in 1973, is impressive. You can end your evening by attending a performance.
Sydney Harbor Bridge
The Harbor Bridge looks imposing and offers a legendary view over the city. From the harbor you have a good view of the bridge. You can take a closer look at the bridge on a boat tour or by helicopter. You can climb the bridge with a Harbor Bridge Climb or enjoy the panorama of the city with a visit to the Pylon Lookout.
Royal Botanic Gardens
It's often stressful in cities with more than 5 million people. Take a break by visiting the Royal Botanic Gardens. It is definitely one of the best sights here. Entry is even free.
Of course there are many more sights if the enthusiasm for surfing leaves time for it.