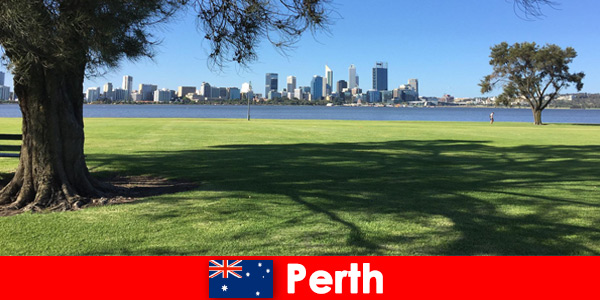 Perth is the largest city on the west coast of Australia. The urban landscape is very diverse. On the one hand, it is characterized by modern high-rise buildings in the city center. In addition, the area around Northbridge invites you to celebrate with friends. There are plenty of good restaurants and plenty of accommodation nearby.
The city park – Kings Parc and Botanic Garden
Kings Parc offers the best views of the city. There are also public barbecues here that can be used by anyone completely free of charge. This is perfect for having a BBQ with friends as the sun sets over the city. From the city center to the numerous dream beaches. On the other hand, Perth offers the perfect basis for an adventure trip. Several beaches can be reached by public transport from the city centre. The best known are Cottesloe and Scarborogh Beach. Various adventure sports such as surfing can be tried out here. Dolphins also like to swim by here.
Freemantle – an absolute must
Located south of downtown is Freemantle. Every Sunday there is the opportunity to try food from all over the world as well as regional delicacies at the market. There is also a very ni-ce shopping street with many small shops and a brewery.